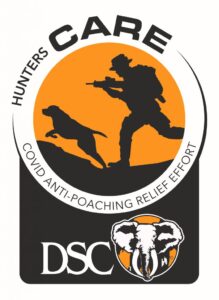 At the start of the pandemic, DSC and DSC Foundation recognized that critical anti-poaching operations in Africa were suddenly at grave risk due to the travel related shutdown of hunting seasons.
This loss of funding for anti-poaching operations across Africa was dire, and poaching skyrocketed.
To fight this battle, DSC and DSC Foundations launched Hunter's Care in April 2020, which protected wildlife over 24 million acres.
Every year, DSC funds projects and initiatives in support of its mission of Conservation, Education and Advocacy.
The following list represents the first round of grant recipients for 2022.
Alaska Professional Hunters Association (APHA)—the professional guide industry organization in Alaska will use these funds to protect the future of non-resident hunting in Alaska.
Bringing Back the Lions—this book by outdoor writer Mike Arnold tells the full story of Coutada 11 and the miraculous rescue of a doomed ecosystem in Mozambique following a long civil war.
Congressional Sportsmen's Foundation (CSF)—the leader on policy issues for sportsmen and sportswomen in the United States will use these funds to protect and advance hunting, angling, recreational shooting and trapping opportunities.
Conservation Visions—a global wildlife initiative led by Shane Mahoney will use these funds to expand engagement and support for science-based sustainable use both internationally and domestically.
Guide Outfitters Association of British Columbia (GOABC)—an organization that advocates for science-based wildlife management will use these funds to combat efforts to end cougar, lynx, bobcat and grizzly bear hunting in British Columbia.
2021-2022 Fiscal Year Grant Recipients
Alaska Professional Hunters Association (APHA)
Congressional Sportsmen's Foundation (CSF)
Feeding Texas
Guide Outfitters Association of British Columbia (GOABC)
National Trappers Association
Operation Game Thief (OGT)
Outdoors Tomorrow Foundation (OTF)
Texas Conservation Alliance
Wyoming Outfitters & Guides Association (WYOGA)
Zimbabwe Professional Guides Association