Unexpected Bear Hunt
Photos by Larry Weishuhn Outdoors
[author] [author_image timthumb='on']https://www.biggame.org/wp-content/uploads/2019/10/untamed.png[/author_image] [author_info]Larry Weishuhn is a widely known writer, speaker, raconteur and world hunter. You can catch his podcast DSC's Campfires on waypoint. [/author_info] [/author]
"Change of plans! We're not going to be able get into the deer area I wanted us to hunt because of recent destructive storms, but I have a plan! Let's get you a black bear license…" Not quite what I had planned or expected. But I liked how my guide Sean Lingl thought.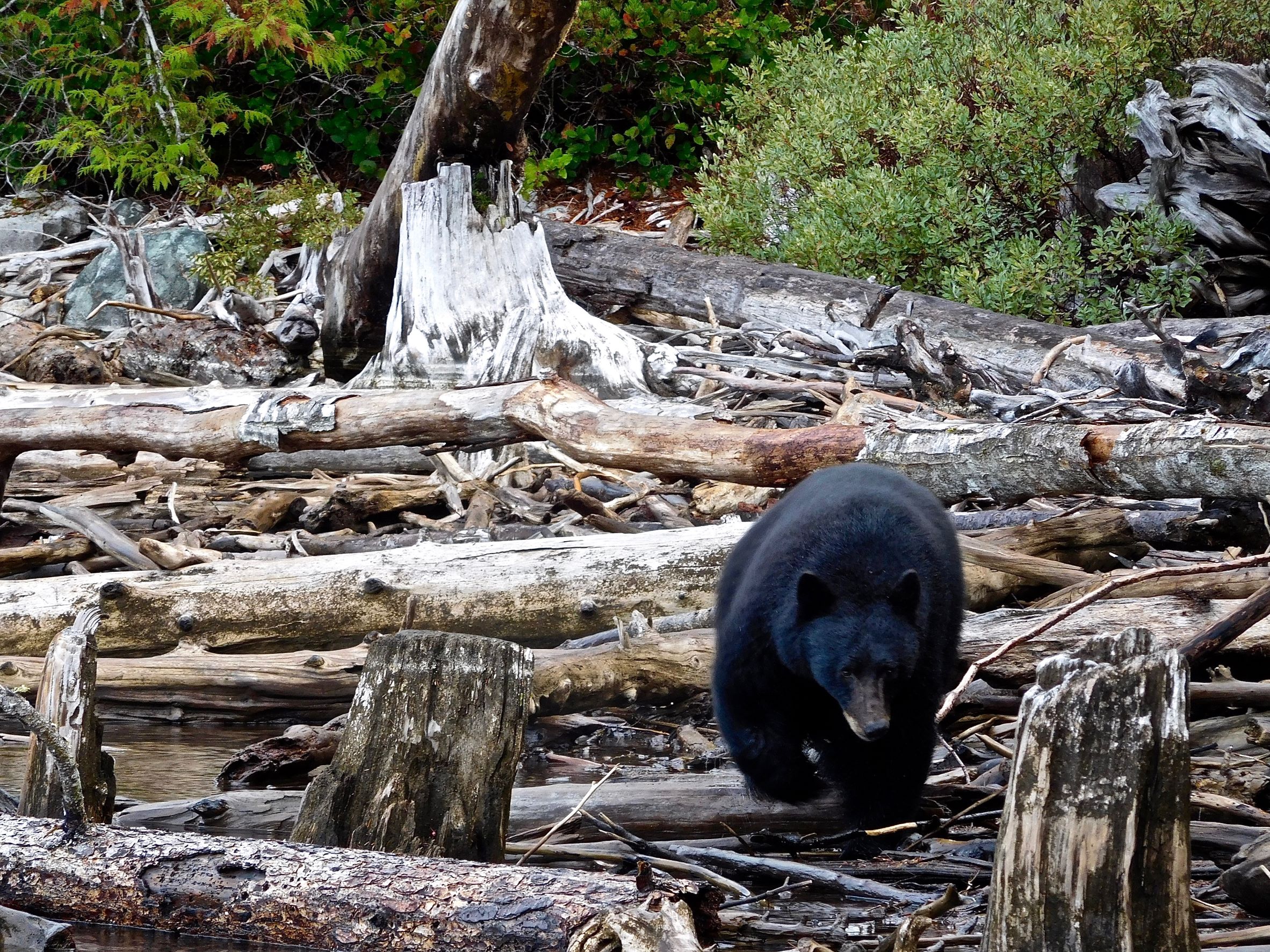 Initially I had come to British Columbia's Vancouver Island during the fall to hunt Columbia blacktail deer. Sean continued, "There's simply no way to get where I had planned us to hunt either by land or sea. We have deer around the lodge and where I keep my boat.  Problem is, we can't hunt those areas. We can hunt deer across the lake, but not many deer there, still we'll try…." Shaking his head, "Maybe we'll see a buck. But with a bear license, we'll have another option. Tomorrow we'll make our way to the head of the lake. We should see several bears. I have seen some legitimate eight-foot bears there." I nodded approvingly, "We're on the tail of the salmon run, but there should still be some fish coming into the streams that feed the lake!"
"Big bear you say?" I queried.  "Possibly an eight-footer? You got my attention!"
"Would you like to borrow my .375 Ruger. I know your .257 Roberts could kill a big bear, but wouldn't you feel more comfortable shooting a . 375?" I was honored Sean would allow me to use his rifle, topped with a Trijicon scope and of course shooting Hornady 300-grain DGXammo.
"Yes Sir! I would love to!"
"We'll head out onto the lake in the morning and start out hunting deer by crawling up into the mountains, do some glassing and hopefully find a buck. But I need to remind you that deer are few and far in between. After lunch we'll head toward the back part of the lake. But now, let's go get you legal for bear, come back have a great evening meal and get ready for tomorrow morning." That is exactly what we did! After purchasing a bear hunting license, we headed back to Sean's lodge and had a fabulous meal, thanks to Marnie, Sean's gracious and talented wife.
Morning arrived way before first light. A quick delicious breakfast, then we headed to Sean's comfortable boat. A half hour later, we beached the craft and headed up the mountain in search of deer. Wish I could tell you we saw a nice buck, or even a doe, we did not.
We did find a set of tracks that looked like they had been made a week earlier. So, it would be the rest of my deer hunt.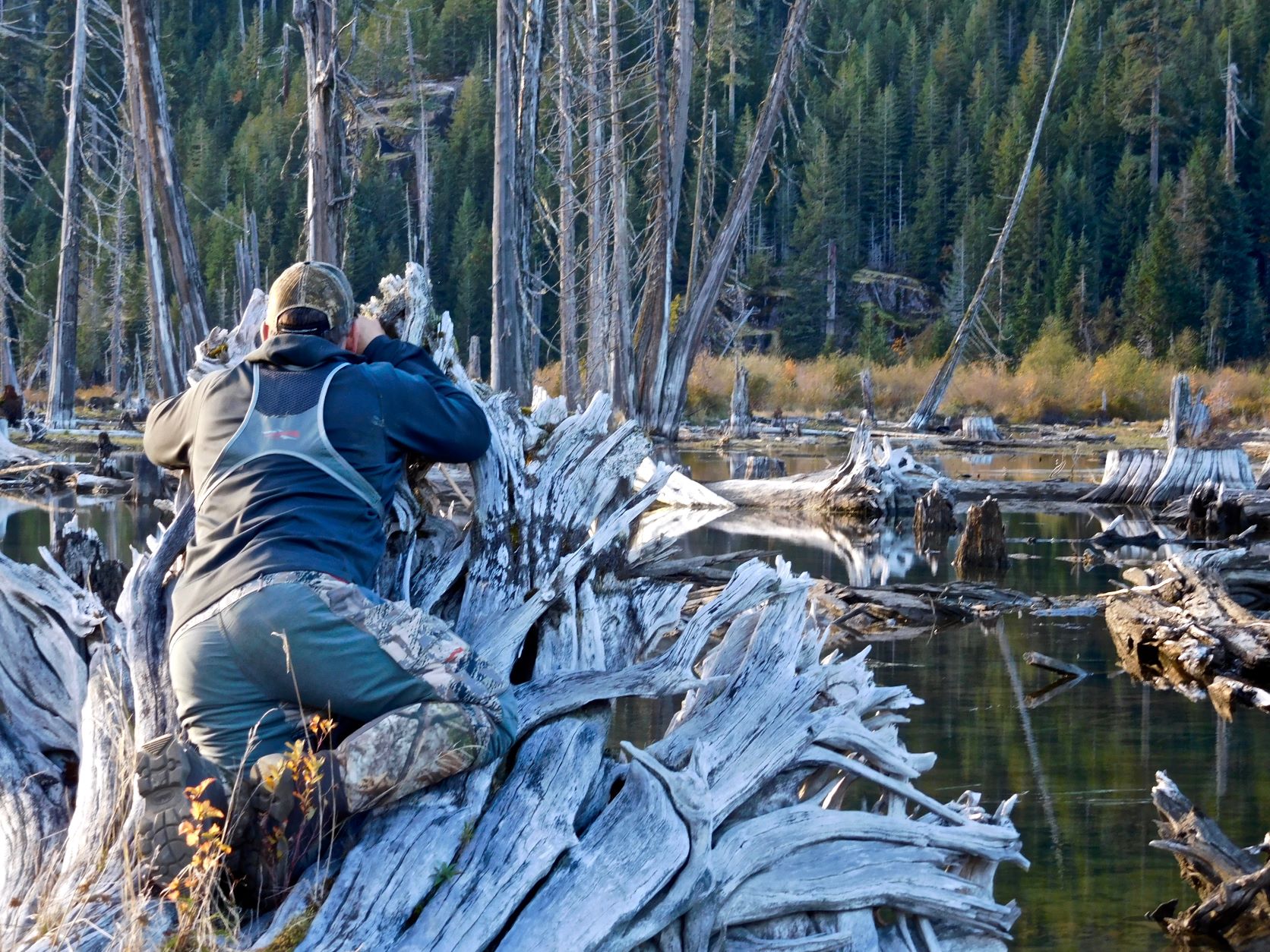 Noon, we were back at the boat and headed toward the back of the lake where Sean had previously seen some big black bear.
Headed to our destination, I admired the absolutely fabulous scenery but also reflected upon previous fall bear hunts I had done, starting with hunting with hounds in the morning and then sitting on water holes in the late afternoon in New Mexico near the Mescalero Apache Reservation. It was there I shot my first black bear as it drank from a pond. That memory brought to mind other bears I had taken in northern New Mexico during the fall season. They too, had visited late afternoon waterholes. I had also shot fall bears hunting spot and stalk, as well incidental to deer and elk hunts.
Back then, I came to understand black bear living in Colorado, New Mexico, and Arizona during the early fall tend to come to water daily, mostly during late afternoon. By setting up where I could watch a remote waterhole around with numerous bear tracks nearby, I knew I would have an excellent chance at shooting a bear. Sitting on a particular waterhole in northeastern New Mexico just below Johnson Mesa during one afternoon, I watched eight bears come to water. That occurred two days before the season opened. Opening day afternoon, I shot a really nice six-feet plus squared bear, one that had been eating acorns.
But now I was in Canada, on an island. Water was everywhere. Water was not a premium as it had been in the desert Southwest. Still, water seemed to attract bears even on Vancouver Island, however for a different reason.  Water meant, not only something to drink but also food in the form of salmon swimming upstream to spawn.
The back side of the lake and the two streams that fed it were filled with "dog" salmon. They were everywhere, some dead and dying and some wildly alive.  Fish carcasses littered the shoreline, obviously fed upon by bear. Numerous appeared to only have had their brains and eyes eaten. "No doubt the bears are here, now likely bedded, digesting their feast. With the first snows only a few days away, they're likely getting a bit sluggish, but still trying to eat all they can." I nodded an affirmative. "Let's head to that point there on the left, the one with stumps and fallen tree trunks. Got a feeling about that place," said Sean surveying the area with an experienced guide's eye.
We did not have long to wait before the first bear appeared: a boar approaching the seven-feet squared size. He headed our direction and fed on salmon within a few yards of where we were sitting on a tree trunk, hidden behind upturned roots. He was a beauty. Had I not previously taken numerous really nice black bear, and, the fact Sean had seen bigger bear in the area, I would have taken him.
Until near sundown we watched little bears, middle-sized and bigger bears, although none of the caliber Sean had mentioned. "Gotta leave in about five minutes to get across the lake while we can still see. Noticed on our way here there were several floater logs. Don't want to hit one on my way home. We gotta be back at the dock before it's totally dark!"
I cast an eye to the far right just as a distant, huge black blob appeared.  A quick look through my 10x binos confirmed it was not only a black bear, but it was a monstrous bear. "That's one of the eight-footers I told you about!" I nodded and kept watching. "Unfortunately, by the time we could get to him, we'd be out of light. Then we'd have to try to get home in the dark. Wouldn't recommend that." I nodded in agreement.  "Besides…got a feeling he'll be back. Tomorrow we'll set up on the right rather than the left side where we were this afternoon."
That night at the lodge over a fabulous supper featuring of delicious prawns and fish, Sean and I talked about his involvement with DSC and DSC Foundation, and the fact he annually donated hunts in support of DSC's mission of conservation, education and hunter advocacy. Too, Sean's Canadian Guide Outfitters was DSC's 2013 Outfitter of the Year. Frankly, because of outfitters like Sean, DSC does wondrous work and with a very limited staff.
The following day, we saw several bears, but no huge bear—at least not until just before we had to leave when the monstrous bear appeared once again. This time however, on the left side of the stump and log covered bay where we had been the previous evening. Seemed he had gotten an advanced copy of the script!
While eating that night we heard high winds, a front blew in. Likely there would be too much wind on the lake.
First light, winds blew gale force! We hunted an area in the mountains, where Sean had seen a bear before I arrived feeding alongside a stream he believed could possibly meet and exceed the monstrous eight-feet squared mark.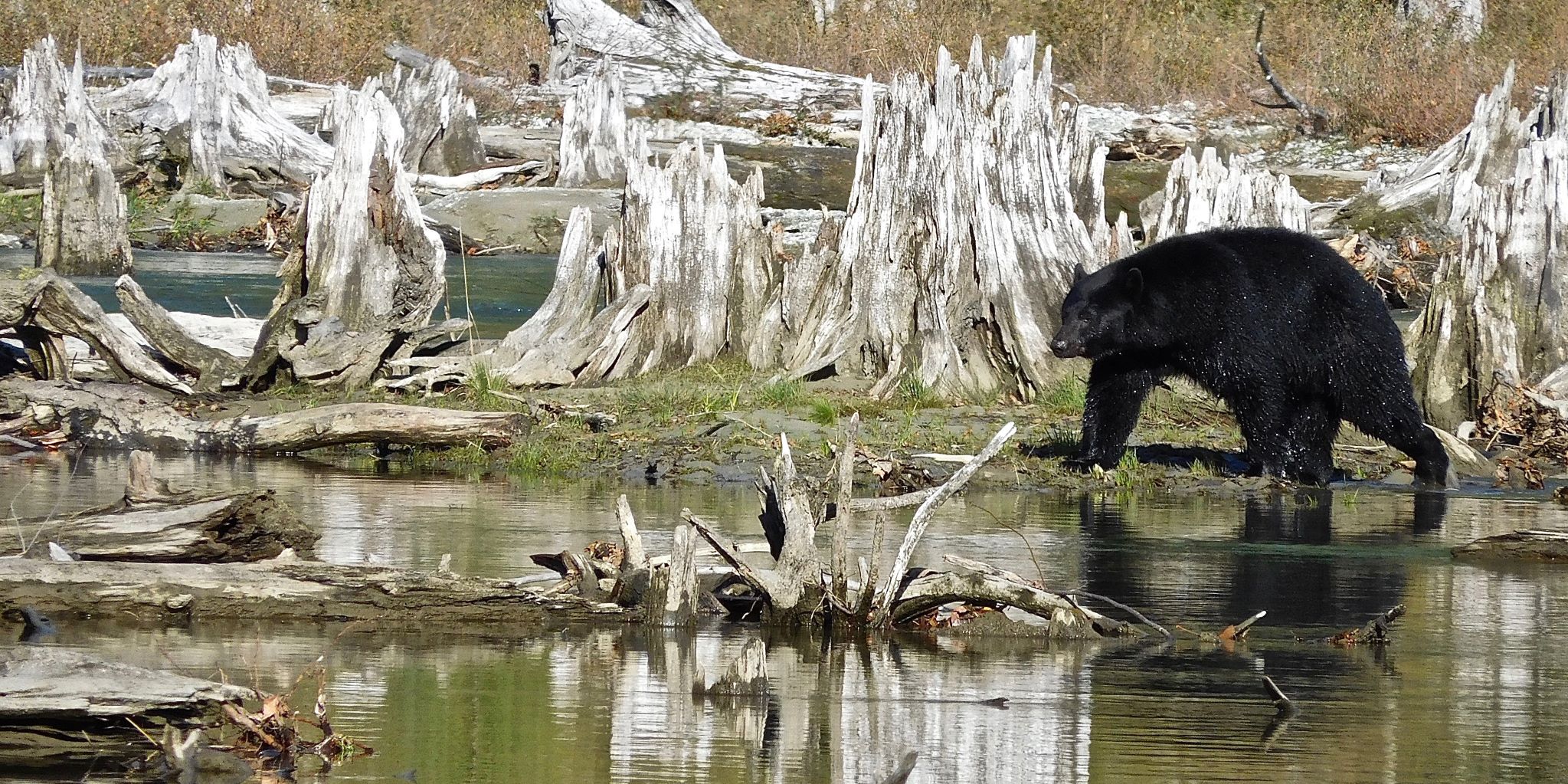 By noon we had seen several really nice-sized bears, easily approaching seven-feet… but not the BIG one! Sean checked the weather forecast. "Gale force winds. Not a good idea to get on the lake this afternoon. Let's head to the nearest village, grab a bit to eat and come back." Sounded like an excellent idea to me!
That afternoon, secreted along a remote stream's edge we had several bears, almost in our lap. It could not have been a more enjoyable or fun-filled evening hunt. I took a great number of photos of bears.
The next morning leaving the lodge we left the lodge driving through "see no more than 6-inches ahead" dense fog. Sean checked the weather, "Fog, likely not lifting until late afternoon.  Then, another front is blowing in bringing high winds and rain." We turned around, headed back to the lodge. "Second and third cup of coffee seems in order. After that we'll head to another area where I've seen some big bears during the fall," said Sean, followed by, "This weather thing is one of the reasons I don't usually book bear hunts during the fall…"
The coffee was strong, hot and delicious. The conversation stimulating and fun. Mid-morning, we headed into the hills. In spite of fog, intermittent rain we saw eight bears, likely sows based upon body confirmation and size.
The front blew through during the night. The wind calmed by dawn's light. We headed to the lake in hopes of finding the big boar. This time we brought lights in case we needed to head back in the dark. On our way, we spotted a really "nice" bear walking the shoreline. We beached the craft and set up to wait for him to come to us. He did! He came so close I feared I would have to shoot him in self-defense. He passed at eight-feet.
We spent the day glassing and watched the areas we had seen the eight-foot bear the previous evenings. We stayed until it was dark. He did not show. Several other bears, although not equal to his size, put in an appearance. What a fabulous day of watching bears!
Next morning avoiding forceful winds, we again headed into the hills. It would be my last day hunting with Sean until another year.  If I saw a bear bigger than those that I had taken in the past, I would do my best to take it. If we did not see a monstrous bear, I was fine going home with my unused bear tag. The hunt had been extremely successful as far as I was concerned, a true adventure in the company of a good friend, fabulous food and scenery and having passed on many bears.
We did see more bears: sows and young boars, but not "the big one." That night over another fabulous "Marnie Prepared Meal" we made plans for my early departure to the airport and trip back to Texas. I hated to leave but knew come January and our annual DSC Convention I would sit down with Sean and plan another future hunt with him. I still have an appointment with a Vancouver Island Columbia blacktail deer and an eight-feet squared black bear!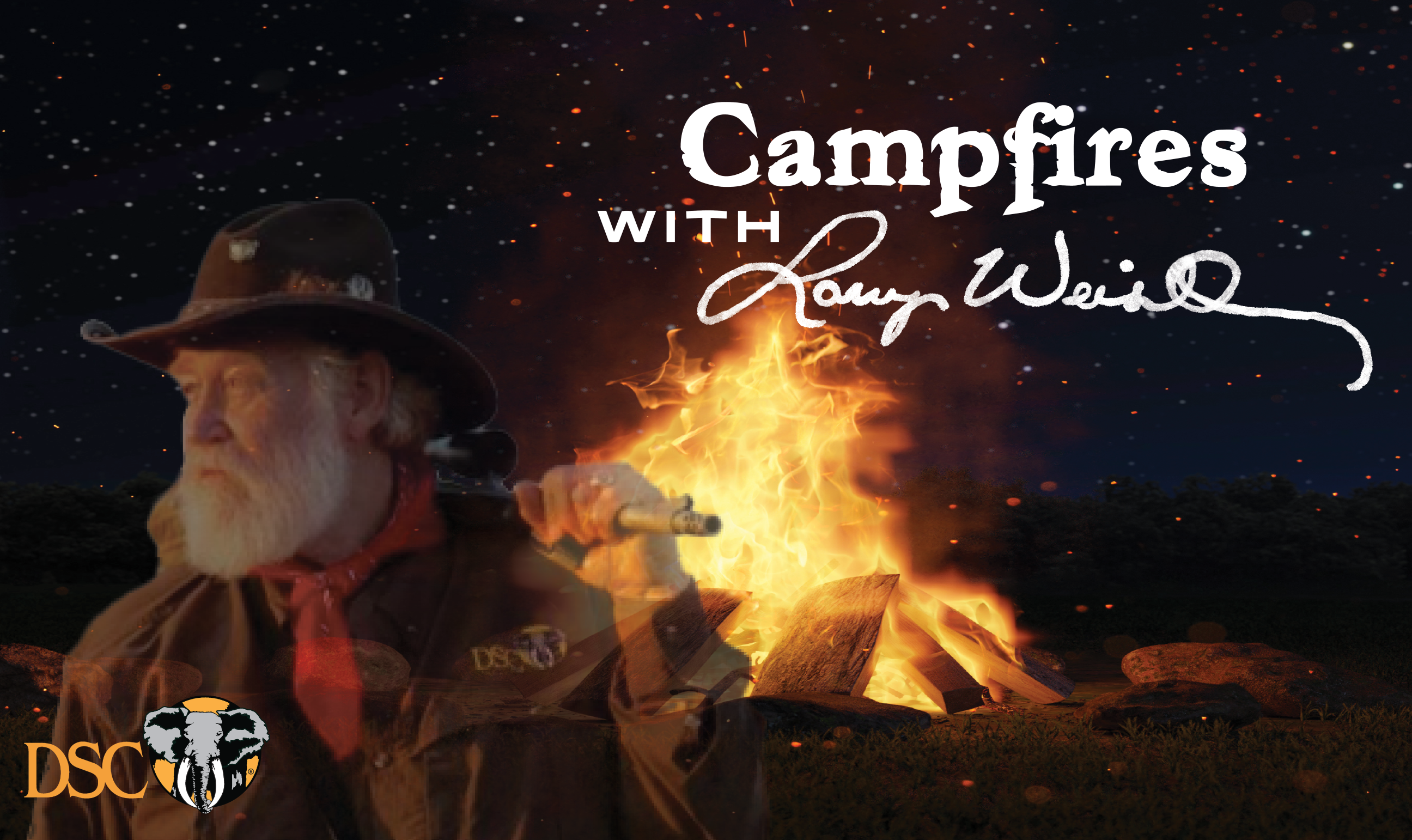 Regardless of what is going on in the world, there are always small things, of beauty and splendor, for us to enjoy, admire and appreciate!
If you haven't heard any of the "Campfires with Larry Weishuhn" podcasts, head to www.waypointtv.com/dscs-campfires to listen to all the episodes.