Youth Fishing Event – Arrowhead Park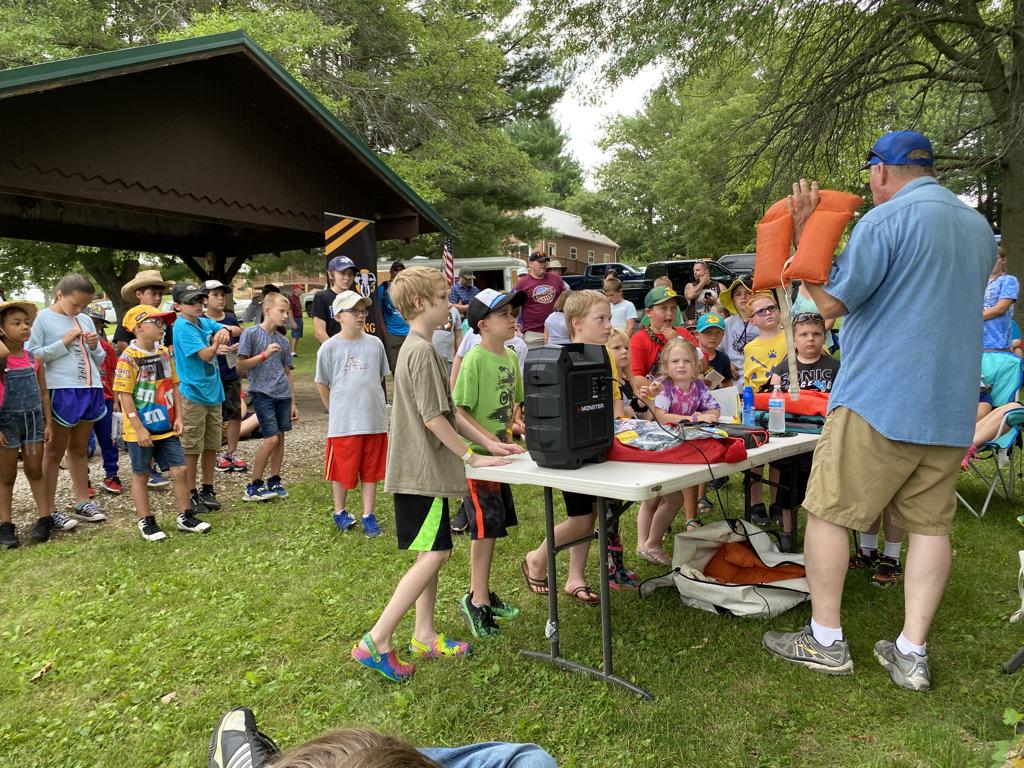 On July 17, Heartland DSC coordinated a youth fishing clinic in partnership with Boy Scouts Of America Mid-America Council, Fishing Is Fun, and Completely Kids at Arrowhead Park in Pottawattamie County near Neola, IA.  Over 115 people attended the event, including 61 youth who participated in the fishing clinic sessions.
Heartland DSC is a 501(c)(3) with a primary focus and goal of "Getting Youth Outdoors."  During 2020, Heartland DSC sought out and partnered with Fishing Is Fun, a 501(c)(3) organization within the Nebraska Walleye Association, that has a primary goal of "Teaching Kids To Fish."  Both organizations felt that their fundamental goals and objectives were similar, and a partnership was formed to put on a fishing clinic at Arrowhead Lake.  The event lasted about 4 hours, culminating with youth putting the skills that they learned in the clinic sessions to work by fishing with their parents and guardians.
The format of the event was that there were five fishing clinic sessions, each 15 minutes long, that Cub Scout-aged youth and their siblings rotated through.  In addition, youths from Completely Kids as well as youth "walk-ups" that were camping in the park were broken up into groups to rotate through the clinic sessions, which included onshore hands-on casting, fish identification, knot tying, lures and live bait, and water safety.
Once the clinic sessions were over, lunch was provided by Heartland DSC.  After lunch, a short graduation ceremony was conducted in which Fishing Is Fun provided each youth that attended the clinic sessions a graduation certificate, fishing rod and reel, and tackle box containing fishing supplies.  Heartland DSC also provided a gift to each of the youth.  Worms for all were donated by Woods Sporting Goods of Council Bluffs.  The weather cooperated with partly cloudy skies and temperatures in the low 80's.
The Mid-America Council is one of the Nation's premier Scout Councils with a focus of instilling timeless values of character, citizenship and leadership in each young man and woman who has entered the Scouting program.  The mission of Completely Kids is to empower kids and families with the skills necessary to break the cycle of poverty and overcome barriers to their success.
Those that donated their time, knowledge and efforts in "Getting Youth Outdoors" and "Teaching Kids To Fish" included:
Heartland DSC

Kim Gibson
Chuck Kopocis
Pat Shurtliff
Jeremy Suiter

Heartland DSC Volunteers

Barb Shurtliff
Matt Shurtliff

Boy Scouts Of America Mid-America Council
Fishing Is Fun – Nebraska Walleye Association

Bill Brewer
Richard Losee
Richard McShane
John Misco
Dave Nadgwick

Completely Kids

Ana Banker
Ann Lawless
Margarita Perez