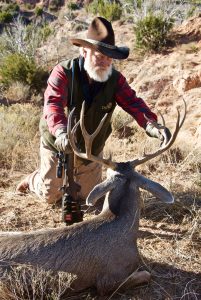 For the most part I am truly pleased to have been born when I was, but with one small caveat; I wish I could have started hunting mule deer earlier than I was able to.  I shot my first mule deer shortly after graduating from Texas A&M University.
Growing up in rural Texas in the Zimmerscheidt Community between Houston and San Antonio, I watched older cousins and family friends annually depart to Colorado to hunt mule deer each October and West Texas in late November.  I could hardly wait for them to return to see the magnificent bucks they took, which in Colorado at the time often amounted to being able to take more than one buck.  Those wide, massive, Y-branched antlers fascinated me.  I yearned for the time I could either join them, or go hunt mule deer on my own.
A lack of money and having to attend classes kept me from doing so until after graduation.  After graduation working as a research biologist with Texas' then Wildlife Disease Project, an interagency program between Texas A&M's Department of Veterinary Pathology and Texas Parks and Wildlife Department, I finally had time.  Money was, however, still a problem.
The lease I got on with fellow biologists near Kent, Texas cost $50.  By today's standards not much money, but back then, a lot of money!  Too, at the time I did not own what I considered a rifle worthy of hunting mule deer. A quick call to my younger brother Glenn. He would let me use his 4x Weaver scoped Savage Model 99 .300 Savage for my hunt. But, I would have to buy ammunition.
Camp amounted to a rather thin sleeping bag and a tarp borrowed from my dad, plus a pot and cast iron skillet borrowed from my wife's kitchen.
The drive was long and lonely, though filled with excited anticipation. I set up "camp" a couple hundred yards from a windmill so not to scare any cattle or deer that might water there, but close enough to get water for coffee.
That afternoon I glassed the surrounding low hills, deep canyons, as well as an expanse of lowlands between hills, traversed by a dry creek.  Glassing revealed only "country" but walking back to camp I spooked three does and a young 3×3 buck.
I did not sleep that night.  Long before the sky turned a dirty school bus yellow I was seated on a ridge where I could glass at first light.  The desert's cold edged easily through my flannel shirt and cheap vest. When the sun finally did appear I soaked in its warmth.  I moved a few times to different vantage points until 9:00 am; then decided to walk a high ridge, "zig-zagging" from the ridge's rimrock to a hundred yards below.
I had walked a couple hundred yards and was near the bottom of my "zig-zag" when I heard rocks rolling above.  Turning I brought the lever action to shoulder fully expecting a deer.  Indeed, it was a mule deer, a buck with a double forks showing on my side.  He slowed to a walk, presenting a broadside shot.  I pulled the trigger. The deer stopped.  I quickly levered in a fresh round and and was starting to pull the trigger when he fell.  I kept the fixed 4-power Weaver scope on him.  He did not move.  Ready to shoot if necessary I walked on shaky knees to where the buck lay 70 yards above me.  At his side, I was thrilled beyond belief!  My buck had 9 total points, a 5×4 counting browtines, beams spreading 22 inches.  After standing there admiring him and giving thanks I got busy with field-dressing and caping chores.  After quartering my buck, I packed him to camp, 2 miles away.  There, I hung the quarters and backstraps in a mesquite to cool.  Then went to work completing caping chores. That night over an open fire I had backstrap fried in bacon grease.  Talk about delicious!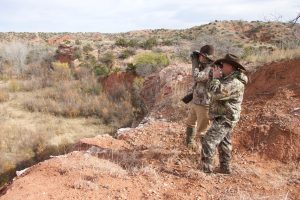 Next morning, I loaded everything into my little red Volkswagen and headed home, smiling and grinning the entire 560 miles back home.  I was not only a mule deer hunter … I was a successful mule deer hunter.  A longtime dream had come true!
That is how my love affair with mule deer started … well actually it had started when I was about 5 years old.  Since that hunt many years ago on the ridge overlooking Persimmon Gap, I have hunted mule deer not only in Texas, but for years in New Mexico and Colorado as well as Wyoming and Montana and Mexico.  I am still enamored and smitten with mule deer!
These days I hunt mule deer with Double A Outfitting in the lower Texas Panhandle along the breaks of the Double Mountain Fork of the Brazos River, with Craig and David Archer.  Hunting with Double A I have taken three really nice bucks, two 5x5s and an ancient 4×4.  On those hunts I also called mule deer with Burnham Brothers Game Calls using their C-3 and Close Range calls.  I have called in within almost touching distance over 200 mule deer during the last three years; bucks, does, fawns, young and mature bucks. I love watching them respond.  Most of the time they come at a full run!
As a wildlife biologist and longtime hunter I have learned several things about mule deer, particularly on the properties where I have been able to hunt them several ensuing years.  It seems mule deer does are much slower in maturing than whitetails.  Very seldom do I see mule deer does that are bred and later followed by a fawn until they approach their third year.  Most mule deer does seem not to breed until they are 2 ½-years old.  I cannot recall seeing a mule deer doe that looked like she may have produced a fawn during her second year of life.  This is one of the reasons mule deer cannot be managed like whitetails.
If a 6-month whitetail old doe is in good body condition she will breed and produce a fawn in her first year and whitetail does certainly breed as yearlings (1 1/2-year olds).
Regarding mule deer antlers, for years it was suggested mule deer bucks attain their best antlers later in life than do whitetails, usually at 8 or 9-year olds.  Recent research conducted by the Borderland Research Institute at Sul Ross University in Marfa, Texas found after a 10-year study that involved tagged, known-age desert mule deer bucks, at least on the research ranch in the Trans Pecos region where the research was conducted, reached their average maximum antler size at 5.5-years of age, the average Boone & Crockett score being 152 4/8 points. And bucks maintained those size antlers for a long period of time as they got older.  Interestingly research conducted by the Caesar Klegberg Wildlife Research Institute in the Texas Panhandle suggested similar results.
From a management perspective, research on those two Texas sites indicated "culling" lesser antlered bucks had little to no effect to improving antlers in the overall herd.
When addressing mule deer there are two basic types, Rocky Mountain mule deer and desert mule deer, and then various subspecies of each.  Those of the Rocky Mountains live in the mountains, including migrating between summer and winter range, often miles apart.  Desert mule deer generally live in the low hills, mountains and lowlands of the Southwest.  They seldom truly migrate.  Rocky Mountain deer tend to be bigger of body with a potential because of larger skeletal systems to produce more massive and larger antlers.  However, some desert mule deer, such as those which live in the lowlands of Sonora, Mexico can and do produce extremely large antlers.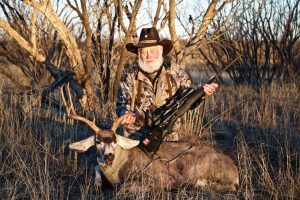 I dearly love hunting mule deer, especially those living in the deserts of the Southwest. To me the habitat in which live, populated with cactus and thorny vegetation where everything wants to stick, scratch or grab you is mystical and fascinating.
The recent harsh winter with deep snows in areas of Idaho, Montana, Wyoming, Utah and Colorado have been devastating to mule deer. In visiting with various biologists in those states recently I learned some areas of each of those States may have lost up to 50-percent of their mule deer populations, tens of thousands of mule deer have died this past winter of 2022-2023.
In a fawn survival study conducted by Wyoming 100 mule deer fawns were radio-collared last spring.  Ninety-eight (98) of those 100 perished during the recent winter.  Pronghorn antelope populations too were gravely effected and elk to a far lesser extent.
Mule deer because of lower recruitment rates will take a long time to recover, hindered likely as well by increased predator populations because of the food, in the form of carcasses, created for coyotes. Hopefully State wildlife agencies will do what they can to decrease predation in those areas where mule deer were hardest hit by winter losses.
One of the best sources of learning about mule deer is becoming a member of The Mule Deer Foundation (www.muledeer.org), doing so is a great way to support our iconic deer of the West. Organizations such as DSC (www.biggame.org) and the DSC Foundation (www.dscf.org) also do much to support mule deer research and management projects.  If you like me, are an admirer of mule deer, please consider supporting The Mule Deer Foundation, DSC and the DSC Foundation. Together we truly can make a difference and insure the health and well-being of mule deer in the future.