Aoudad Dreaming II
[author] [author_image timthumb='on']https://www.biggame.org/wp-content/uploads/2019/10/untamed.png[/author_image] [author_info]Larry Weishuhn is a widely known writer, speaker, raconteur and world hunter. He co-hosts "DSC's Trailing the Hunter's Moon" on Pursuit Channel, CarbonTV and the show's YouTube Channel.[/author_info] [/author]
"The red boulder they are standing next to is 976 yards away," commented Craig Archer peering through his range-finder binocular while pointing toward two aoudad three canyons away. I had spotted them while glassing a 3×3 mule deer just to the right of where the two fed. The buck's antlers were impressive, so was his apparent lack of age. Body confirmation suggested he was likely a three-year-old.
"That buck is one I hope we see again in a couple of years!" I said knowing under the Hargrove Ranch's wildlife management program only very few mature mule deer bucks are annually taken. Thus, there really was a good chance we could see him again in the future.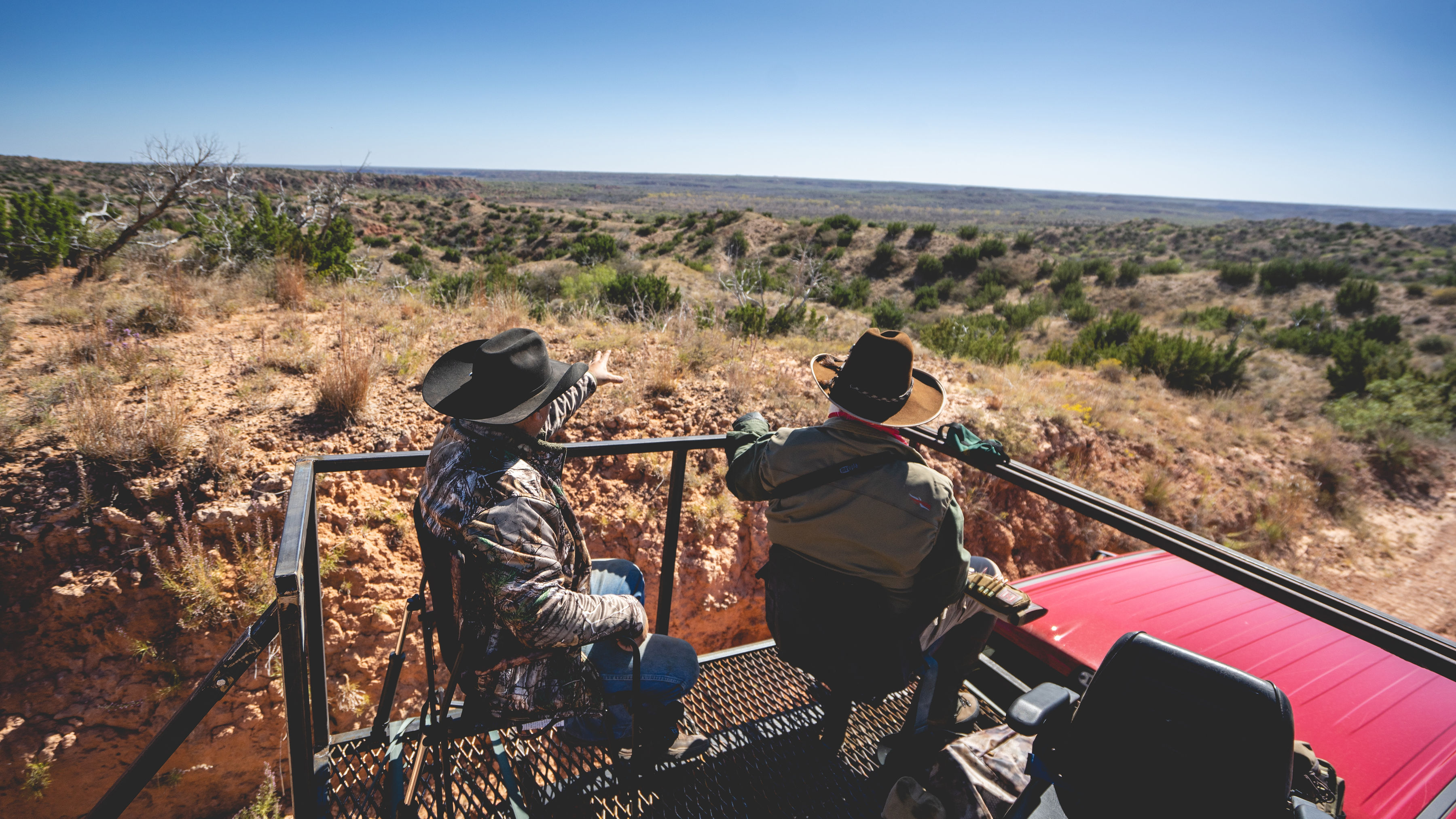 "We've got an increasing population of aoudad on the ranch, and I would like to see their numbers reduced substantially. If we see any aoudad within reasonable rifle range, I want you to shoot!" proclaimed Craig. I appreciated the instructions. My primary goal on this hunt on the Hargrove Ranches (www.hargrovehunts.com) was mule deer. Earlier I had taken a whitetail, an ancient 6-point Craig and I had hunted the past two years. Now I was seriously looking to release another 6.5×55 Swedish Mauser, Hornady 140-grain SST round at a sizeable, mature mule deer.
"How about when I come back during the winter to call coyotes, and, we also hunt aoudads?" I asked of Craig. He nodded in agreement.
I dearly love hunting aoudad, not that unlike hunting desert bighorn sheep—other than it is not nearly as expensive. And, there are a whole lot more aoudad and hunting opportunities than desert bighorns! The challenges, however, are quite similar.
Aoudad are sometimes called Barbary sheep, but they are not true sheep. They are more closely related to tur found in Asia. Aoudad are native of the arid mountains of northern Africa along the Barbary coast. They were introduced into Texas in the 1930's, initially confined behind high fences. In time some escaped. Others were relocated free-range onto much of the Texas Hill Country, far western Texas known as the Trans Pecos and the rugged canyons of the Texas Panhandle. Today there are many more aoudad in Texas than in their native lands. They are also found free-range in New Mexico and a few parts of Mexico.
Interestingly, aoudad can go without free-standing water. They can get necessary life-sustaining moisture from vegetation. They are highly reproductive! Their kind, in North America, are considered "exotics," or non-indigenous species. In Texas they can be hunted year around, requiring only a valid hunting license and trespass permission from the landowner on whose property they roam.
"Looks like a long-horned ewe and young ram, horns about 24-inches in length," said I after evaluating the pair through my spotting scope. Neither appeared to have long manes or chaps, nor did they have the darker reddish brown color typical of old rams.
"We've got much bigger. I've seen some that will go 35-inches and longer. The bigger rams roam the canyons up and down the river. We need to plan a hunt later in the winter," suggested Craig. He then added, "We've got a fair amount of wheat planted along the river bottom, that should draw and hold them when other green vegetation becomes limited."
"I like your idea of another predator hunt like we did last year as you mentioned earlier this morning. Bet it won't take much to talk Gary Roberson (with Burnham Brothers) into another hunt! This time let's also invite Neil Davies with Hornady."
With that agreement, aoudads and predators were shelved for the time being.
Spurred by the aoudad sighting, my mind drifted to a hunt with Wildlife Systems (www.wildlifesystems.com) with guide Jackie Murphy.
For that hunt I had chosen the classic .300 H&H Mag chambered in a Ruger No. 1, topped with a Trijicon 2.5-12.5×42 AccuPoint and shooting Hornady's 180-grain InterBond. The combination is one I dearly love, one that shoots extremely accurately—with one-inch groups at 100 yards—and hits with great authority too.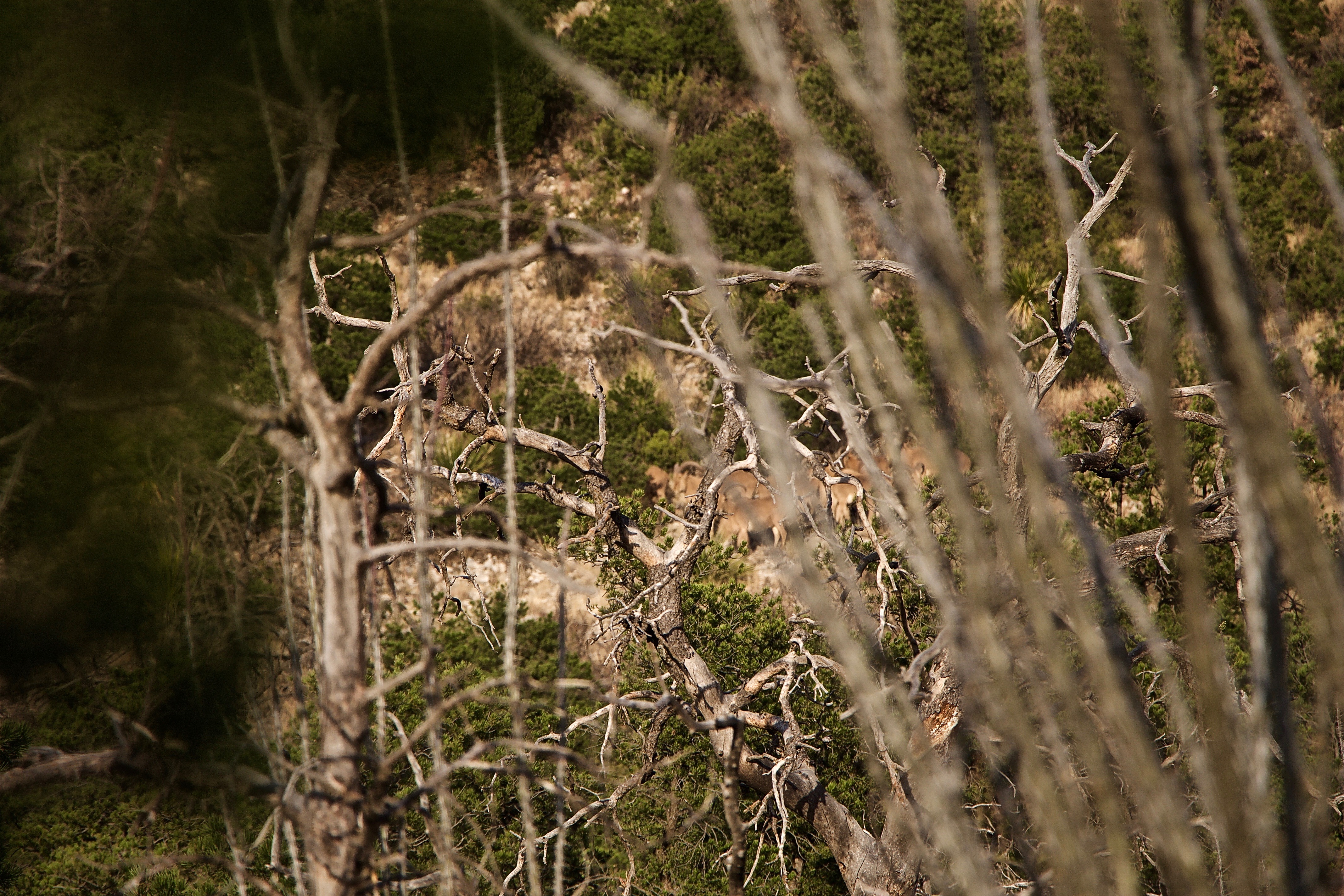 Aoudad can be large of body, weighing over three hundred pounds. They are extremely tenacious and tough to bring down. I too knew there might be the necessity of taking a long shot. Aoudad have extremely acute eyesight. They tend to live and travel in herds with many ever-watchful eyes looking for any potential danger.
The Trans Pecos of far western Texas is sparsely vegetated, rocky and rugged terrain. Such can make getting close to aoudad "iffy."
During the first three days, Jackie and I stalked and turned down a goodly number of rams, including one bachelor herd of over sixty rams. Those rams ranged in horn length from about 26 to just shy of 30 inches. Jackie had instructed me before we headed afield, "You are not shooting anything a less than a fully mature ram with massive 30-inch horns!"
In aoudad hunting circles, Jackie Murphy is known as "Mr. Aoudad" and for good reason. Jackie loves hunting aoudad. When he speaks about them, people listen, as they should. Guiding for Wildlife Systems on the best and finest aoudad habitat and the largest populations in western Texas, Jackie's hunters annually take numerous rams in the 30 to over 35-inch range.
My chance at a big ram came late in the hunt. We were driving from one area to another when we spotted two rams near a dusting area where Jackie had frequently seen some outstanding rams.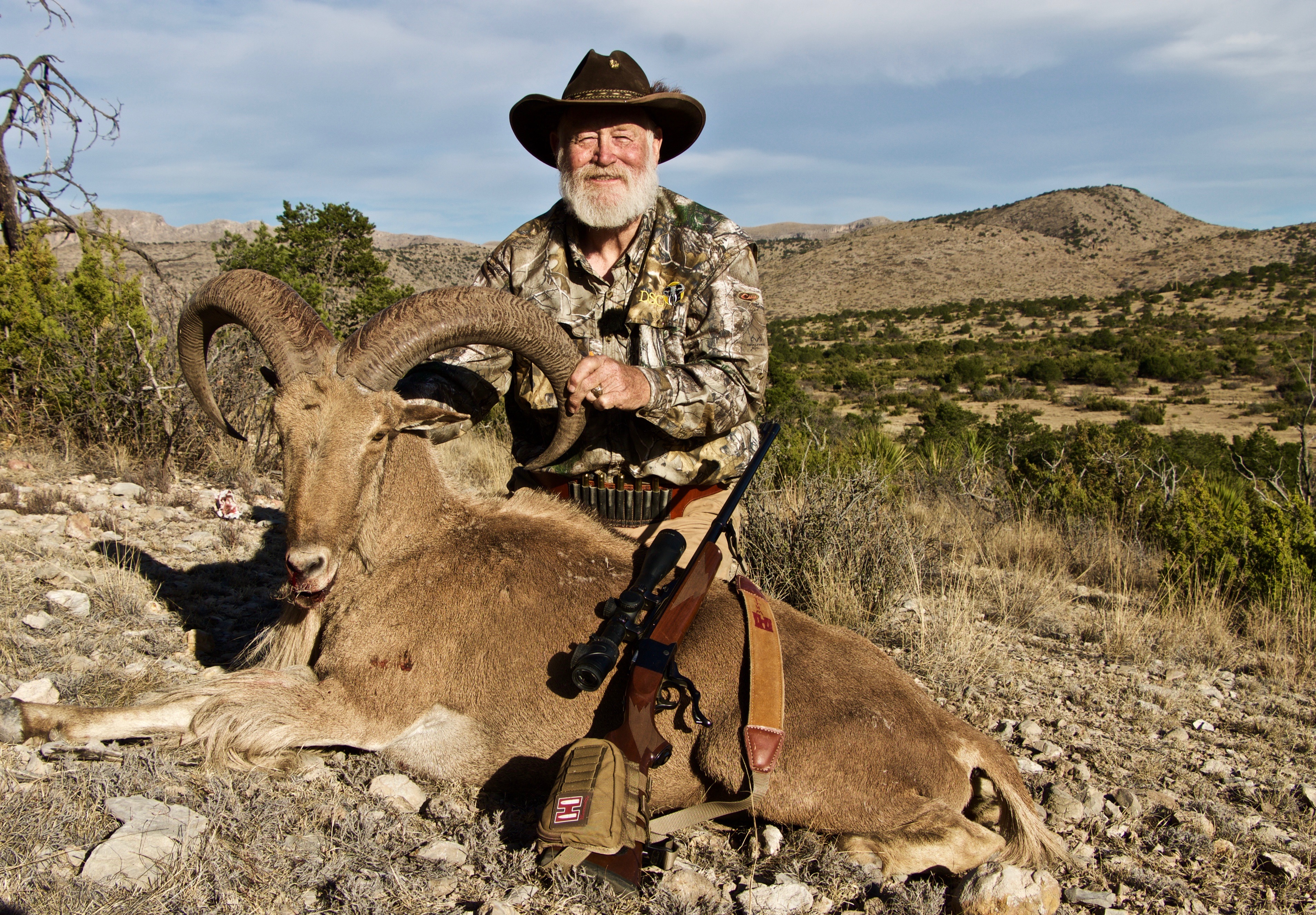 Both rams bolted, then unexpectedly stopped. I jumped out of the vehicle, loaded my .300 H&H Mag, and set up shooting sticks. With my AccuPoint cranked up to 10x, I quickly scanned the two rams. Both were mature based on their long mane and chaps as well as darker reddish-brown color. Both too appeared to have horns over 30-inches.
One of the rams ran behind a screening of junipers. I could see his head and part of his shoulder. A quick look at the horns told me he was old, based on the rather smooth surface of his horns, as opposed to those of a younger ram which would show a "rougher" or corrugated horn surface. The Trijicon's crosshairs settled a third of the way up from the brisket immediately behind the shoulder of the smooth-horned ram. Behind me I heard Jackie say, "Take em!"
Releasing all breath, I gently tugged the trigger. At the shot, the old ram shuddered but immediately turned to run uphill. Years of hunting with Ruger single-shots, I had taught myself to quickly reload. I tracked the quartering away ram through my scope and was just starting to pull the trigger when he fell. I kept crosshairs on him until I was certain he would not again get up.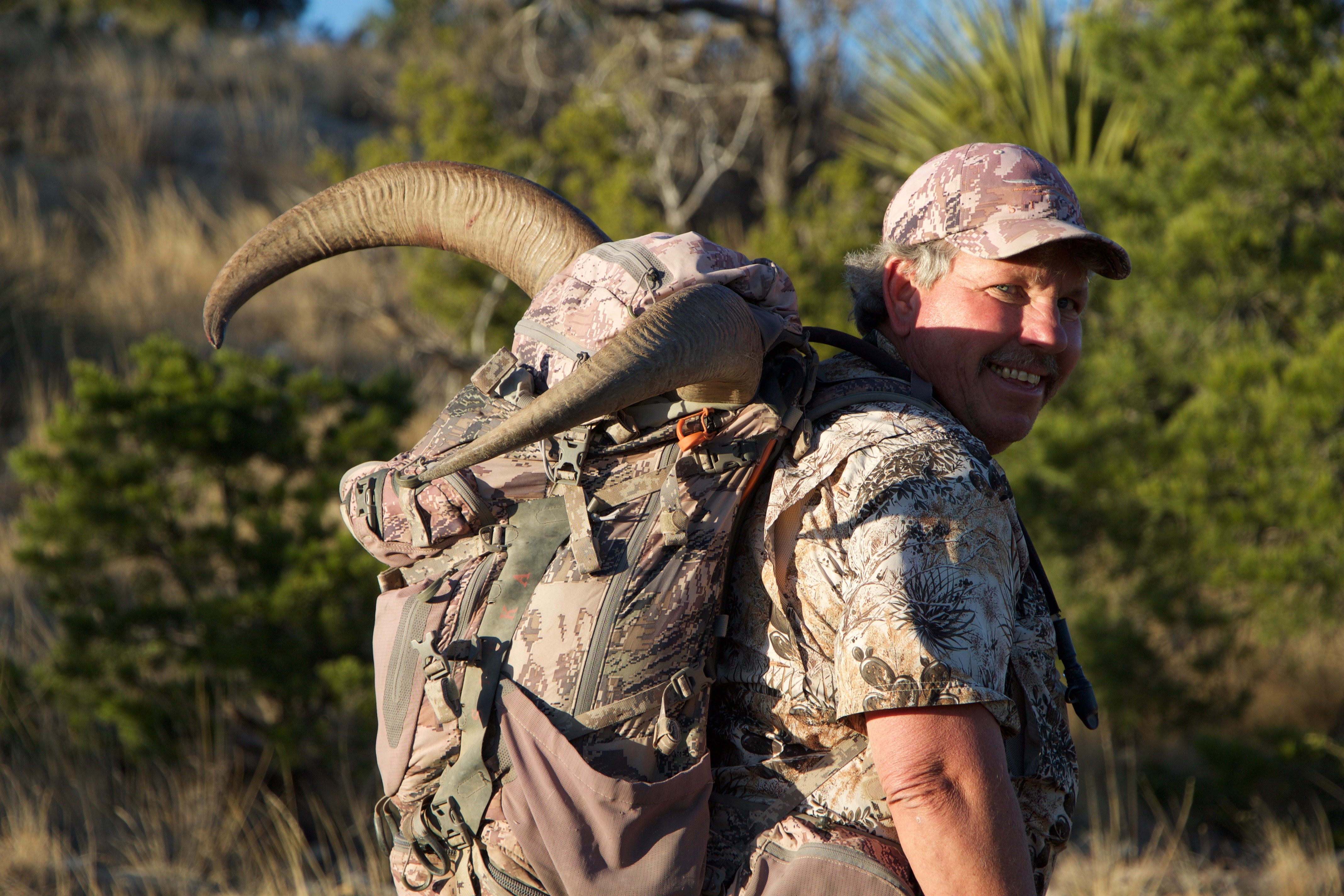 A few minutes later Jackie and I stood by my ram's side. He was bigger in body and horn than the two of us had thought. "Think he'll go 32-inches but look at his mane and chap! Fabulous!" I certainly agreed. Today the ram stares down at me in my office beautifully and accurately mounted by Double Nickle Taxidermy (www.doublenickletaxidermy.com).
Telling about that hunt has made me truly anxious to go on another aoudad hunt! Knowing Wildlife Systems is totally booked for aoudad, I think I will contact Craig Archer and see if I can set up a hunt in the next week or so….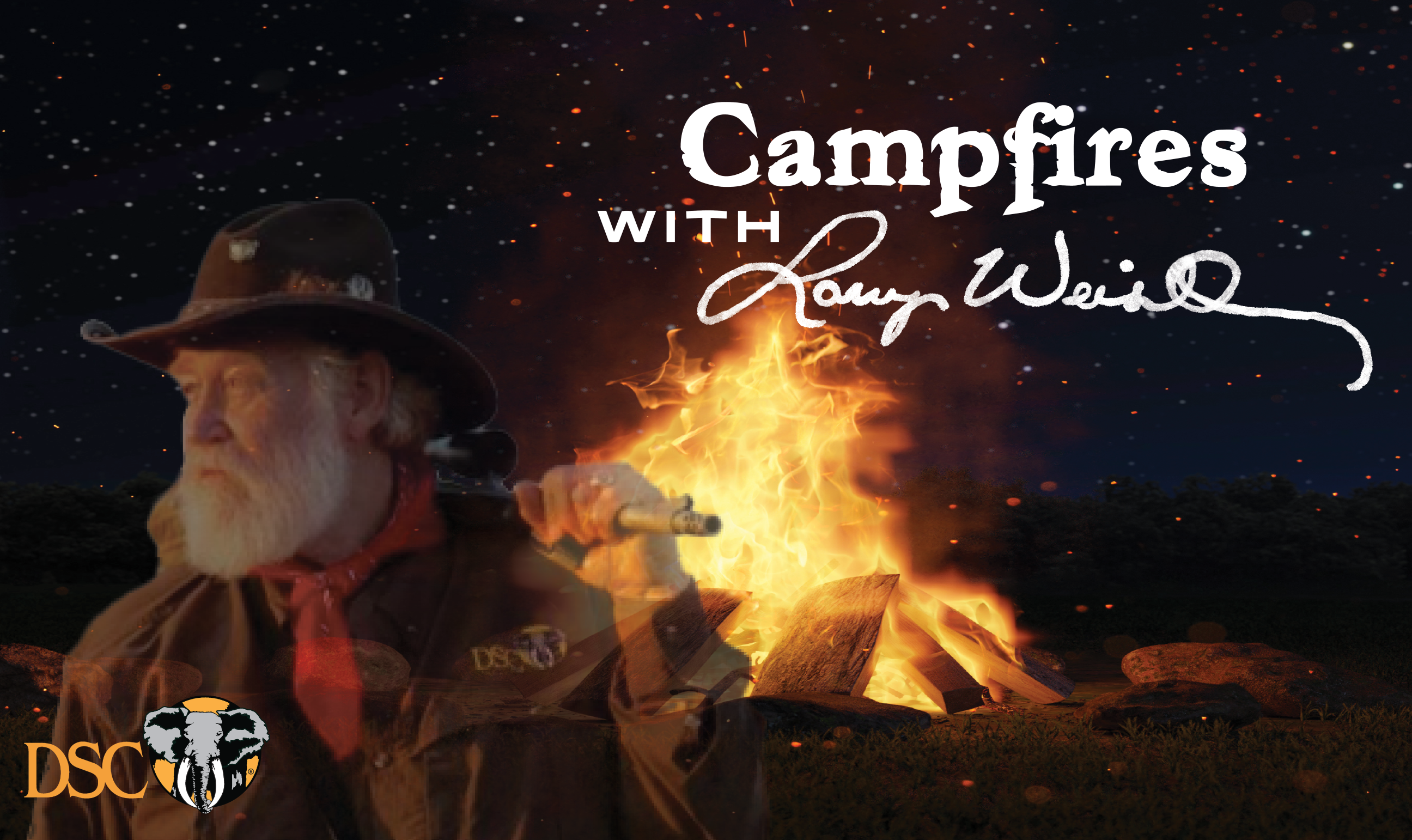 Regardless of what is going on in the world, there are always small things, of beauty and splendor, for us to enjoy, admire and appreciate!
Watch "DSC's Trailing the Hunter's Moon" TV show on our YouTube Channel, or on CarbonTV.
If you haven't heard any of the "Campfires with Larry Weishuhn" podcasts, visit blubrry.com/untamedheritage/ to listen to one of our dozens of podcast episodes.