Calling all Bidders…
[box] Are you ready for DSC's 2020 Auction Spotlights?  Well, the wait is over! Each and every Friday leading up to the Greatest Hunters' Convention on the Planet scheduled January 9-12, 2020, one of many special opportunities generously donated to Heritage Convention & Sporting Expo Auctions & Raffles will be spotlighted just for you! Get ready to be tempted with unique hunting adventures, both local and faraway, fine firearms, exquisite jewelry, fabulous furs, luxury fishing excursions and so much more![/box]
Up first on the "Auction Block" is this fantastic 5-day whitetail deer hunt opportunity generously donated by DAKOTA OUTFITTERS.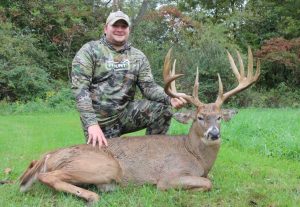 This donated hunt is for two hunters and two non-hunters in the beautiful Appalachian foothills of eastern Ohio and includes trophy fees for 1x buck scoring up to 200″ for each hunter. Method of take is hunters' choice. This estate hunt is available August-December 2020 or 2021 and may be upgraded to include elk at current price list. Additional hunters are welcome at 10% off current rates; non-hunters are welcome at $100/night. Transportation during the hunt is mostly by vehicle with hunting done by blinds. This package includes field prep, transportation to shipper, licenses, lodge accommodations, meals, beverages and private guide service. Not included are dip & pack service and gratuities. Transportation between Columbus, Ohio Airport and the lodge can be arranged at cost. DALLAS SAFARI CLUB THANKS DAKOTA OUTFITTERS, LLC FOR THIS 100% DONATION. Valued at $17,000. https://dakotaoutfittersllc.com
A complete list of donated items can be found here: https://www.biggame.org/convention/auction-information/.  Online Raffle sales open soon and online Live and Silent Auctions soon after.  The much anticipated DSC Auction Catalog will mail out to members mid-November and will be available for viewing online as well.
Happy bidding!