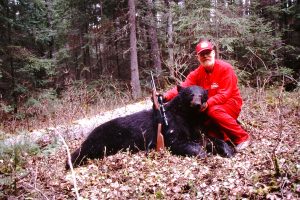 The stick tapping on my right shoulder was cause for concern.  I knew if my guide was tapping me as opposed to whispering, something was close, really close. I moved my eyes far right, careful not to move my head.  Whatever it was had to be on my right side, the reason he had tapped me there as opposed the left shoulder or in the middle of my back.  I had a strong suspicion we had a bear at arm's length and possibly closing.
Maybe sitting on the ground hunting black bear over bait was not such a good idea, especially in an area where bears probably did not know what humans were, and certainly did not consider them as an ultimate predator or have any fear of mere mankind. But then I had asked for an adventuresome hunt.
Three days earlier we had flown into a newly opened frontier camp in far northern Saskatchewan, Canada.  To this point, the only encounters the local bears had with humans were when the guides carried bait to the bait stations.  Bait was comprised mostly fish and beaver.  Bears in the area knew nothing of such various baits as grain, honey and honeycomb, donuts and other sweets.
Our "take" thus far on our remote outpost hunt included an overly aggressive three-year old boar that was shot at inches rather than feet or yards when guide and hunter approached the bait to freshen it.  The boar had not given the hunter a choice.  It was kill the bear or deal with the consequences of an enraged bear.  Rightfully, the hunter made the proper decision in dispatching the bear.
The second of three hunters, me being the third in camp, had the first two days passed on a variety of bears.  First afternoon of the hunt he had seen a monstrous light brown color-phase bear.  It ran to the bait site, grabbed a beaver, turned and disappeared into the dense underbrush.  According to the hunter, who had previously taken some really big bears. the big brown had a huge head and body.  He felt assured the bear would easily square 7 feet.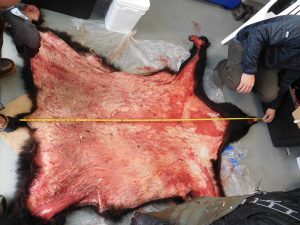 To determine a bear's square, the hide once removed is determined by adding distance between tip of nose and tail, added the tip of front claw across the back to the tip of the claw of the opposite front foot claw measurement. Both measurements taken without stretching the hide.  The total divided by two, thus, the "square" of a bear hide.  He too, had commented the bear's head was long and wide. Bears are officially measured for record book purposes my measuring the length of the skull, lower jaw removed, and added to the width, from zygomatic arch to zygomatic arch at their widest points.
It takes a 21-inch totaled skull to make the all-time Boone and Crockett record book!  But a mature bear with a combined skull measurement of 18 inches is rightfully considered a really good bear!
In terms of square, any bear that squares 6 feet or better is considered a great bear.  Age, nutrition and genetics determine the square as well as the skull measurement of a bear.
Black bears too vary in color.  On both our east and west coasts, most bears are black.  Inland bear populations colors can vary almost any color from near white, to blond, cinnamon, light brown dark brown and shades in between.
On this trip I was after a BIG bear, preferably a color-phase bear with hair the color of cinnamon to Hershey chocolate brown.  Over the years I had hunted bear throughout much of North America from the high deserts of southern Arizona to their northern tundra range in the far reaches of Canada and from Alaska to Maine. I had taken some really nice and big black as the ace of spades and was looking for a color-phase.
My firearm at the time of the described hunt was a Marlin Guide Rifle (pre-Ruger) in .45-70, which with Hornady's then 300-grain soft-point load was superbly accurate.  Frankly one of the most accurate off the rack rifles I have ever shot.  It would literally put three-shots into the same hole at 100 yards.
The guide's tapping suddenly got more rapid.  No doubt the bear was really close!  I slowly turned my head to the far right and came almost face to face with a bear.  From the shape of its somewhat narrow head, meaning just the beginnings of being heavily muscled, I surmised it was likely a big sow or most likely a two- or three-year-old bear.  The latter tend to be most aggressive, on par with sows with cubs.
Any move I made would likely encourage the bear to charge.  He was too close!  Too close for me to swing my rifle in his direction and get off a shot before he would be literally on top of me.
I sat statue still, not so much as batting an eye or taking a deep breath. The bear stared, his nose sniffing rigorously. I did not know what to do, but remain still, hoping the bear would decide we were not a threat, nor anything good to eat!
He took one step closer, neck extended forward, took another deep sniff, shook his head as if he did not like what he smelled, then FINALLY turned and walked toward the bait. When he was about twenty steps away, I again breathed. I turned to look at my guide, sitting about six feet behind me.  His face was pale.  He rolled his eyes in a "what did I get myself into" manner.  All I could do is smile…
The "near bear" ate the better part of a beaver carcass, then finally walked away. Thankfully directly away from where we were sitting our natural brush, ground blind.
Late that afternoon, another bear came to feed. This one was huge.  I guessed him well over a 7-feet squared bear with at least a 19- to 20-inch skull.  He was coal black.  I had one day after this afternoon to hunt.  Frankly he was too big a bear to pass.  One shot through his vitals, he ran and fell within sight.
At his side I would not have been more pleased…well, other than I wish he had been chocolate color-phase bear!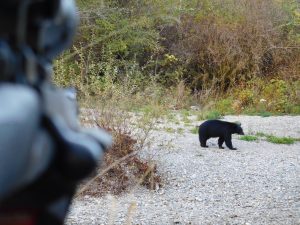 It has been a while since I have hunted black bear, but this spring I will again do so on a hunt set up with Linda Powell, a long-time dear friend who handles the PR/Media for Mossberg.  I will accompany her to far northern Canada where she and others have taken some extremely big color-phase bears.  I could not be more excited.
My firearm combo will be a Mossberg Patriot in 7 PRC, shooting either Hornady's 160-grain CX Outfitter Ammunition or their 175-grain ELD-X Precision Hunter.  I will top the combo with a Trijicon 2.5-12.5×42 AccuPoint scope.  I have used this same scope in a lot of hunting situations from Africa to Europe to North America. The scope's green tridium "dot" is perfect for low-light conditions and especially good again the dark hair of a black or color-phase bear.
I suspect I will opt for Hornady's Outfitter CX load. Both it and the heavier Precision Hunter loads are supremely accurate.  I strongly suspect our bear hunt will be a baited hunt, so shots should be within 50-yards. Thus, I'll sight in at either 25 or 50 yards, likely the latter.  Before heading to bear camp, I will also shoot that sight-in at 100 to 200 yards in case we encounter a bear in a field, or in route to the bear stand.
As mentioned, it has been a while since I last hunted black bear. All my hunts for bear have been exciting regardless of how or where they were hunted.
Most baited bear hunts are set up to hunt only in the afternoon, so there is often time to do a bit of fishing during the morning hours.  Hopefully that too will be the case. Surely would be nice to catch a few fish for dinner!
I can hardly wait!