2023 Award Winner:
Jim Heffelfinger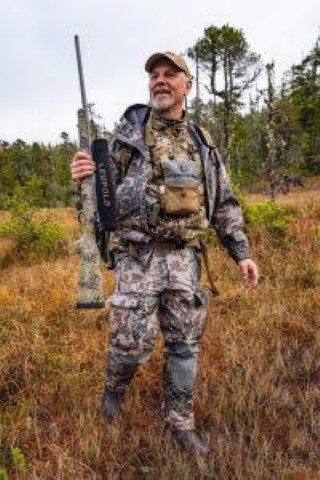 DSC has selected Jim Heffelfinger as the winner of the 2023 Conservation Trailblazer Award. This award celebrates the monumental contribution of wildlife professionals to the field of game and non-game wildlife conservation, including wildlife and habitat management, applied research and policy.
Heffelfinger will be presented the award, plus a $10,000 contribution in his name toward the conservation project he selects, during the Thursday night banquet at the 41st Annual DSC Convention and Expo to be held January 5-8, 2023.
Heffelfinger currently serves as Arizona Game and Fish Department's wildlife science coordinator and as an adjunct faculty and full research scientist at the University of Arizona. He has also worked for private landowners, the USDI Bureau of Land Management, and multiple universities as a wildlife research assistant and wildlife biologist. Heffelfinger was a regional game specialist for the Arizona Game and Fish Department for more than 20 years.
"Jim is a foremost expert on deer in the United States. He is a consummate professional who diligently stands on the side of science and not emotion or politics. The impact of his expertise, leadership with the scientific community, and ability to take complex scientific information and communicate it to a diversity of audiences make Jim worthy of this prestigious award," Casey Stemler, big game migration coordinator for the Department of the Interior, says.
For more than 30 years, Heffelfinger has focused primarily on big game and various deer species. He's the chair of the Western Association of Fish and Wildlife Agencies' (WAFWA) Mule Deer Working Group. He authored his own book "Deer of the Southwest," led the writing of the North American Mule Deer Conservation Plan, and is lead editor of the upcoming book "Ecology and Management of Black-tailed and Mule Deer in North America." He's also been instrumental in helping to coordinate and implement the Department of Interior's Secretarial Order on big game winter range and migration, both in Arizona and with other WAFWA state agency biologists.
Additionally, Heffelfinger has also written more than 300 magazine articles and 20 book chapters in regional, national and international publications. He has published dozens of scientific papers and has written TV script for outdoor TV shows. He's participated in approximately 25 podcasts and maintains his own website called www.deernut.com.
"Given his incredible body of work and ability to communicate with broad audiences that has manifested into profound conservation impact, coupled with a long list of existing peer recognition and achievement awards for that work and impact, I simply could not think of a better qualified candidate for the DSC's Conservation Trailblazer Award," Edward B. Arnett, CEO of The Wildlife Society, said.
The 2023 DSC Convention and Expo will be held in the Kay Bailey Hutchison Convention Center and Omni Hotel in Dallas, January 5-8, 2023. Sportsmen and women are invited to be a part of another exciting event to help support conservation, education and hunter advocacy initiatives around the world.
The Trailblazer Award celebrates the immense contribution of wildlife professionals to the field of game and non-game wildlife conservation, including wildlife and habitat management, applied research and policy.
Nominees must be full-time state, federal, tribal, provincial, government, academic institution or NGO natural resource professionals. The award may be presented to recognize the lifetime career achievements of a distinguished wildlife professional or a specific project with a significant conservation impact.
Any interested conservationist may submit a nomination for this award. Candidates will remain eligible for two years unless re-nominated. Please send nominations and inquiries to Crystal@biggame.org by September 1.
The submission should contain:
A detailed nomination statement with the nominee's scope of work and impact in the field of wildlife conservation
At least one additional supporting letter from a nominee's peer or someone with direct knowledge of the nominee's work
The nominee's resume or curriculum vitae
The recipient will be presented the award plus a $10,000 contribution toward his or her work in wildlife conservation at a banquet during the annual DSC Convention. The award will not be given posthumously and can only be won once.