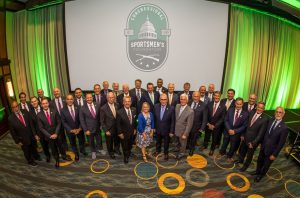 September 14, 2023 (WASHINGTON, D.C.) – Yesterday, the Congressional Sportsmen's Foundation (CSF) hosted its 34th Annual Banquet & Auction, recognizing the bipartisan Congressional Sportsmen's Caucus (CSC) and its leadership in protecting and advancing sportsmen's traditions and fish and wildlife conservation on Capitol Hill and across the country.
For 34 years, CSF's annual banquet has brought together Members of the CSC with leaders from the sportsmen's conservation community and representatives from allied industries to celebrate the conservation victories of the past year and discuss upcoming opportunities for sportsmen and women. This year, more than 60 Members of Congress attended the event, including bipartisan CSC leaders Sen. Joe Manchin (WV), Sen. John Boozman (AR), Sen. Angus King (ME), Rep. Bruce Westerman (AR), Rep. Jimmy Panetta (CA), and Rep. Garret Graves (LA).
Made up of more than 200 members of the House and Senate, the CSC is the largest, most active bipartisan caucus in Congress, renowned for its unparalleled effectiveness and dedication to advancing the interests of America's 55 million sportsmen and women. Living up to its reputation, the CSC has continued to be the driving force in advancing pro sporting-conservation policies in 2023. Working alongside the CSC, CSF is well-positioned to advance the interests of sportsmen and women in the nation's Capital. Through the leadership of the CSC, the U.S. Senate passed the Duck Stamp Modernization Act (the House is set to follow suit next week), significant advancements were made to protect angler and boater access across the Atlantic, and a successful fly-in was hosted to help secure strong conservation and forestry titles within the Farm Bill, and more.
"The CSF Annual Banquet is a completely unique event on Capitol Hill that sets aside party lines to celebrate our similarities and our shared love for our outdoor pursuits," said CSF President and CEO Jeff Crane. "What makes CSF unique is the unparalleled network of pro-sportsmen's policymakers, and this event, which is the largest gathering of hunters and anglers in D.C., provides an opportunity to celebrate the vast achievements of the Congressional Sportsmen's Caucus and our shared goals to protect and advance hunting and angling traditions."
Prior to the evening's banquet, CSF also hosted a VIP reception where Deputy Secretary of the Interior Tommy Boudreau and USDA Undersecretary Robert Bonnie took to the stage to address the crowd. During the reception, Jeff Crane and CSF Board Chairman Richard Childress were presented with a donation from Safari Club International (SCI) in recognition of the outstanding collaboration and partnership between CSF and SCI.
CSF would like to extend a warm thanks to our Mission Partners and to the sponsors who made this event possible. Title Sponsors include Bass Pro Shops, Cabela's, National Shooting Sports Foundation, Outdoor Sportsman Group, and Richard Childress Racing. Host Sponsors include Dallas Safari Club, Ducks Unlimited, Ecentria, Grieve Family Winery, Hornady Manufacturing Co., Safari Club International, Scheels, Shimano, and Vista Outdoor.