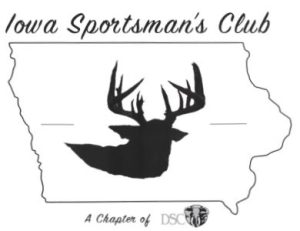 DSC is thrilled to announce the latest addition to the DSC Chapter system – the DSC Iowa Sportsman's Club.
Led by a strong board of passionate conservationists in the Central Iowa area, the DSC Iowa Sportsman's Club will serve Iowa by raising funds to preserve the rich heritage of hunting and fishing in the state.  With goals to raise funds and awareness for wildlife issues in the state legislature, as well as fund local conservation projects, and introduce new outdoorsmen and outdoorswomen to the hunting and angling lifestyle, the group plans to host its first Gala on March 1, 2024.
The Gala will be located at the Iowa Events Center and will run in conjunction with the Iowa Deer Classic, a chapter partner.  The Chapter is excited to not only bring awareness to local issues, but to get boots on the ground and a fistful of dirt, working directly with landowners in Iowa on conservation projects. These may range from forest regeneration for whitetail and turkey, to creating edge and nesting cover for quail and pheasant or preserving waterways and streambanks for native fish populations. They will also be funding several hunting/fishing experiences for youth and new hunters in the state.
"Iowa has always had a strong dedication and sentiment towards hunting and angling, but recent attacks on that heritage have awoken a passion from outdoorsmen and outdoorswomen from across the state. We hope to become a voice for the residents of Iowa to convey their preferences to our legislature concerning the management of our wildlife," said chapter President Tayler Riggen. "The DSC Iowa Sportsman's Club plans to bring hunters and anglers together from across the state to make a difference for wildlife conservation efforts in Iowa."
The addition of the Iowa Chapter makes 15 DSC Chapters across the country.  "With their passion for boots on the ground conservation and advocacy efforts, the Iowa Sportsman's Club makes a perfect partner for DSC.  We look forward to working closely and accomplishing great things for conservation in Iowa," said DSC CEO Corey Mason.
Annually, chapters contribute 25 percent of the net of their largest fundraiser to DSC and the DSC Foundation. Of this, 20 percent is used for real, boots-on-the-ground conservation projects of the chapter's choosing. Meaning, DSC chapters keep or direct 95 percent of the money that they raise to projects of their choosing. Our chapters retain more money than other similar organizations and know exactly where their money goes…because they choose the projects!
For more information on DSC Chapters, contact Chapter Development Manager Bruce Boroski at Bruce@Biggame.org.