DSC AUCTION SPOTLIGHT #1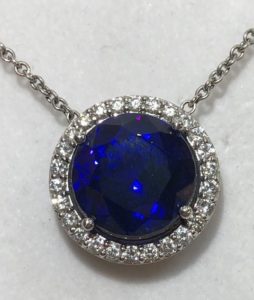 At long last, Heritage 2020 will be upon us in less than one week.  And with great delight, we're happy to reveal our last, but certainly not least, DSC Auction Spotlight #1 – A stunning tanzanite and diamond necklace featuring a magnificent center stone weighing a whopping 13.44 carats!  And better yet, 100% proceeds from the sale of this dazzling piece benefits the DSC Foundation (DSCF), a 401 (c)(3) charitable organization.  Learn more about DSCF at www.dscf.org.
Bid now online HERE or read on for more details…now back to work to get ready for the show!
13.44-carat Tanzanite center stone set in platinum with platinum chain. The center stone is surrounded by 26 diamonds with a total weight of one carat, GH color, SI clarity. This is a custom piece, handmade by Jerry Boguslawski, President of Chicago Jewelers. PROCEEDS BENEFIT DSC FOUNDATION (DSCF). REFERENCE THE CHARITABLE DEDUCTION QUALIFICATIONS IN THE OFFICIAL AUCTION RULES SECTION OF THE CATALOG. Valued at $40,000. Matt Boguslawski, matthewboguslawski@gmail.com.