Fresh Off The Auction Block Is…DSC AUCTION SPOTLIGHT #12!
Why #12, you ask?  Well, because there are just 12 weeks (wait, what!?) prior to DSC's 2020 Heritage Convention & Sporting Expo, and we fully intend to get you entirely revved up in anticipation as we count down each week with a unique and amazing offering waiting for you at the show!
Week 12's Auction Spotlight is brought to you by our friends at PLANO KAWASAKI SUZUKI ROXOR who have generously donated this fantastic ROXOR Off-Road 4WD Vehicle – Valued at $17,200.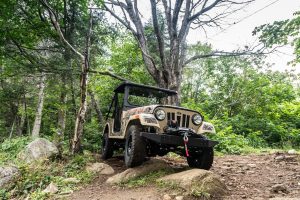 You may be thinking, "That's great, but it's entirely out of my price point by about $17,000."  Well, think again, because this amazing vehicle can be yours for just $20!  How?  By buying a raffle ticket available now online for preconvention purchasing at this link: DSC RAFFLES. Dream big, because there are an array of other amazing items, including hunts, trips, optics, fine jewelry and firearms, waiting to become yours! Now, back to our spotlight…
ROXOR – No other off-road vehicle on the planet has the heritage, durability and reputation. Its ancestors helped win wars, explore continents and has taken its occupants around the globe. This is truly an original off-road vehicle, with modern innovation. Features include: Factory wrapped in sand/camo pattern; reliable, economical, long lasting 4-cylinder turbo-diesel engine; 4WD to help get you where you need to go…anytime, anywhere; sturdy box steel frame; rock solid and reliable drive train with automotive style 5-speed manual transmission; high tech tires with big wheels and brakes. Vehicle comes with an industry leading limited warranty of 2 years or 12,000 miles. Visit Booth #4153 for pricing on customized options. Winner is responsible for all applicable sales tax, title and registration fees. Pick-up or delivery arranged at cost through Plano Kawasaki Suzuki ROXOR Dealership; contact donor for other pickup/delivery options within the 48 contiguous United States. DALLAS SAFARI CLUB THANKS PLANO KAWASAKI SUZUKI ROXOR FOR THIS 100% DONATION. AJ Meisel, 972-422-4111, aj@planokawasakisuzuki.com, 3405 N Central Expy., Plano, TX 75023, www.PlanoKawasakiSuzuki.com, Booth #4153.
Drawing held 2 p.m. on Sunday 1/12/20 at Kay Bailey Hutchison Convention Center, Dallas, Texas. Need not be present to win. Winners will be contacted by email or cell phone by end of day 1/13/20.