DSC AUCTION SPOTLIGHT #9
Just 9 short weeks until Heritage 2020 and DSC's 40th Annual Convention and Sporting Expo!
Umm…40th, did you say? YES! 2020 will mark DSC's 40th anniversary of proudly hosting The Greatest Hunter's Convention on the Planet™!  What a journey and only 9 weeks to go until we meet again to celebrate!  In honor of this special milestone, we are pleased to present a very fine offering donated by our friends at Baranof Jewelers and Spotlight #9 – A natural 31.25 carat pigeon-blood ruby neck centerpiece!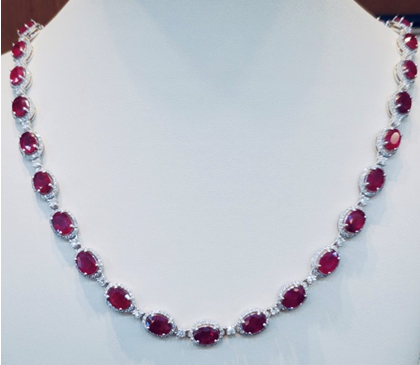 The extraordinary ruby isn't for the "faint of heart" or the "fly-by-night." This precious gemstone represents an eternal flame so passionate and strong today, as it was in its early days, much like your own love for HUNTING!  What?  Excuse us, of course we meant for your own, lovely spouse!
But back to this beauty, which isn't your everyday, run-of-the-mill, magnificent stunner.  Oh no…we're talking very rare, pigeon-blood rubies sourced from Mozambique and here are some of the exquisite details.
This one-of-a-kind necklace set in 14K white gold, features 31.25 carats of natural pigeon-blood rubies sourced from Mozambique and 4.5 CTW of round brilliant-cut diamonds, G in color and Vs1 in clarity.  There's simply nothing more to say other than…when/where/how?  At the Saturday night auction, January 11.  Banquet tickets are now available online at BANQUETS through 12/13/19 (cannot be purchased onsite):  And remote bidding for Live Auction opens next week at LIVE AUCTIONS. Valued at $89,600.  Baranof Jewelers, Tony Hernandez, 435-658-3877, 537 Main Street, PO Box 152, Park City, UT 84060, www.baranofjewelry.com, Booth #3337.