This week, DSC Executive Director Corey Mason and DSC Foundation Executive Director Richard Cheatham have been attending the CITES Convention of the Parties in Geneva, Switzerland.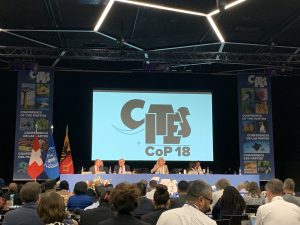 CITES is the Convention on International Trade in Endangered Species of Wild Fauna and Flora. Every two to three years, the Conference of the Parties meets to review the implementation of the CITES Convention. These meetings last for about two weeks and are usually hosted by one of the Parties. On a more informal level, the meetings provide an opportunity for participants to make or renew relationships and to discuss problems and successes. Meetings of the Conference of the Parties are attended not only by delegations representing CITES Parties but also by observers.
Below is an update on an increase in black rhinoceros export quota and DSC's support of representation from the rural communities directly affected by wildlife conflict.
"A win yesterday for science-based wildlife management. South Africa introduced a proposal to the Working Program that proposed to increase its export quota for black rhinoceros hunting trophies from five adult male black rhinoceros to a total number of adult male black rhinoceros not exceeding 0.5% of the total black rhinoceros population in South Africa in the year of export. The objectives of the proposal are to expand the species' range through incentivizing the keeping and protecting of viable populations and to increase/maintain productive population growth rates through the off-take of surplus males.
For some context, using well-regulated hunting of specific males as a conservation tool, South Africa has increased their black rhinoceros population by 60% in just a few years. The success of South Africa and their implementation of an adaptive and science-based approach for management should be applauded by all.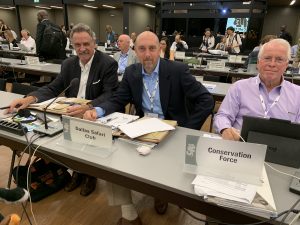 Concurrently, the second Committee focused on Rural Communities and the rights and role that those living with wildlife have and should be provided. Without rural communities serving as shareholders in wildlife conservation in their country, wildlife conservation will not occur. Surprisingly, the majority of Parties did not support the formation of a participatory mechanism for Rural Communities. DSC strongly affirms the rights and needs for those communities and people living with wildlife to have an equal voice in the CITES forums. Without any sense of irony the member countries present in the second Committee enthusiastically embraced and acknowledged the need for youth to have a voice in decisions and a role in future CoPs after passionate interventions based on the very same principles asserted by communities the day before that were rejected and dismissed by the members."
Source: DSC and Convention on International Trade in Endangered Species of Wild Fauna and Flora