Part 1
[author] [author_image timthumb='on']https://www.biggame.org/wp-content/uploads/2019/10/untamed.png[/author_image] [author_info]Larry Weishuhn is a widely known writer, speaker, raconteur and world hunter. You can catch his podcast DSC's Campfires here. Photos by Larry Weishuhn Outdoors [/author_info] [/author]
"Sold," said the auctioneer, "Sold, online to Darrin Rhodes from Utah!"
Corey Mason, CEO of both DSC and DSC Foundation, smiled as he explained the auction items at our first ever DSC Foundation Mid-Summer Gala. Me? I likely was smiling a bit more. I would be hosting the trophy elk hunt we had just sold on the Mescalero Apache Reservation near Ruidoso, New Mexico. Not only would I be accompanying the buyer on his hunt, but once he had taken a big bull I would be hunting for a management bull!
The Mescalero Apache Reservation is arguably home to the finest elk herd in North America. Intensively managed for quality, only a limited number of "trophy" permits, referring to older bulls with extremely big antlers, are issued each year. Those who "own" these permits very seldom if ever let go of them. Essentially you have "to be born" into the permits. But, thanks to the Mescalero Apache Reservation, Derek Derringer with Woodbury Taxidermy, and DSC and DSC Foundation Board member, Russell Stacy, our DSC Foundation was able to procure a "Trophy Bull Permit" for auction.
The DSC Foundation, where like Russell, I serve on the Board of Directors, is the granting arm of DSC. It is our "job" to raise money to issue grants to those organizations, groups and individuals in their efforts for wildlife conservation, education and advocacy, the three-pronged goals and objectives of DSC.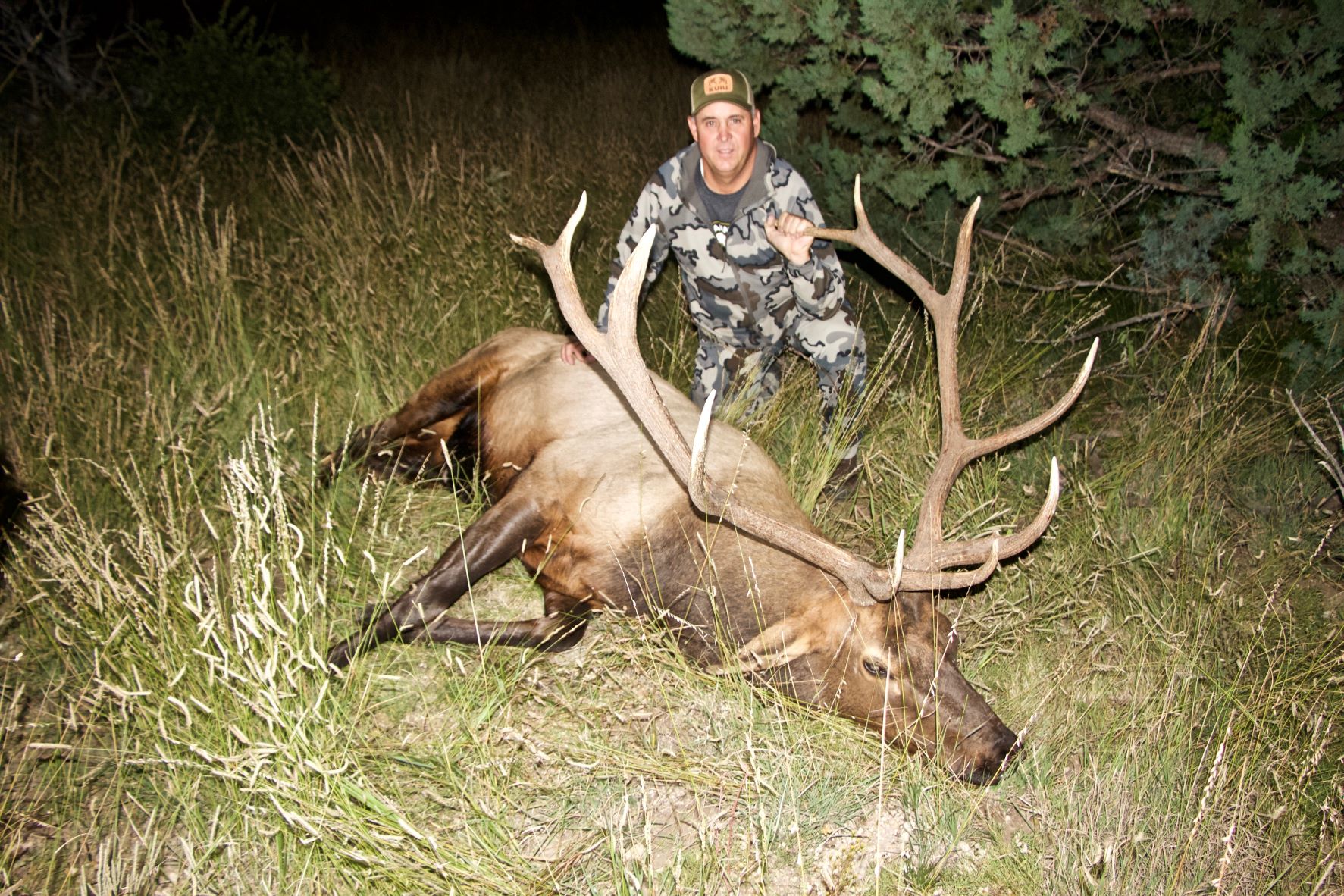 At the orientation the evening before the hunt, Darrin and I met James Adams, our guide for the hunt. James had been guiding on the Reservation for several years, where his father was the Hunt Manager. James, along with his brother Josh, grew up hunting and previously spent considerable time on the Reservation. They know the near half-million acres like their own backyards!
Visiting about the morrow's hunt I saw a twinkle in James's eyes, one that denoted someone who would be fun to hunt with, as well, as someone with a good sense of humor! The next several days confirmed I had been correct in my initial evaluation.
Over an early morning breakfast, I learned Darrin was an experienced hunter, had grown up hunting mule deer and elk in Utah, had taken some extremely fine animals in the past, and loved hunting with his family. He too had previously guided for Doyle Moss. I knew I would truly enjoy time spent hunting with Darrin!
After driving several miles, we—Darrin, James, Jeremiah Bennett our Safari Classics "Trijicon World of Sports Afield" cameraman and I—stopped on the edge of a broad valley. While driving there we had heard bulls bugling. Stopped and preparing to walk a series of ridges, we were surrounded, literally, by bugling elk, too many to count.
Blowing his cow call and very occasionally his bugle call, James got us to within near touching rifle range of no less than 15 bulls during the next hour. That did not include other bulls we saw at a distance. And even though half the bulls would have been considered definite shooters anywhere else, James shook his head indicating, "Don't shoot! We can do better!"
We continued walking into a slight breeze. Bulls were literally bugling in every direction, close to very far. "Look at the bull in the narrow valley to the north! Looks pretty good," said James as he was setting up his spotting scope. After finding it in the scope he motioned Darrin to take a look. A smile came across his face.
"Look at this one Larry. What do you think?" asked Darrin.
The bull was an extremely massive, long-tined and wide 6×6. "I guess at least 350 if not better," said Darrin. I agreed. More importantly, James nodded approvingly.
"He could be bigger. Walking away it's tough to see his tine length." We continued looking at the bull, but then also glassed five other bulls. All were impressive! "He's over 1,000 yards away and walking away from us. I doubt seriously we can catch up with him. He's on a mission to go somewhere. Let's keep moving that direction just in case he turns to come back. There's another gruff-voiced bull bugling below us. We'll check him out, and if he's not what we're looking for, we'll head back to the pickup and drive parallel where the big bull went. Really would like to get another look at him profile and from the front."
We did check out the gruff-bugling bull. He was a massive and long tined 6×6. He looked mighty fine to me. "We can do better!" was James's evaluation.
We headed to the pickup, listening to bulls bugling and seeing another 20 bulls or so bulls with varying sized antlers, on our way back. I had in the past hunted some extremely good elk country, but never had I heard and/or seen as many bulls. We saw more bulls that one morning than I had previously seen on entire hunts!
We did see the big bull spotted at long distance again, but once more over a mile distant, still walking away. "Let's check out another area. One of my hunters previously took a 400-class bull there. That bull was with another that looked similar but was obviously younger. By now he should be as big or bigger than that big bull. In that area, I also saw a 5×5 that was easily over 340." The latter bull piqued my interest.
Try as we may we could not find either of the two bulls James had told us about. That morning we saw so many bulls, I lost count, probably 40 or more!
Back at the skinning shed we "oohed" and "aahed" over bulls taken by other hunters, including several truly impressive 6×6 bulls, as well as several management bulls—primarily those bulls with misshaped antlers caused by pedicels having been broken and re-attached and several monstrous 5×5's. "The 5×5 I told you about is bigger than the best one here," whispered James. The biggest 5×5 present likely scored well over 330 B&C points…
Over a delicious lunch eaten on the balcony of my room at the Inn of the Mountain Gods, I watched and listened to bulls bugling just beyond the golf course and fishing lake next to the lodge.
That afternoon we watched many bull elk, but not of the antler size James thought worthy of stalking or taking. We called in numerous bulls and walked many miles. That night at "camp" sleep came quickly after a fabulous meal.
The next morning's hunt was nearly a repeat of the previous day, more elk than I could have imagined, but not the bull James was hoping to find for Darrin.
That afternoon after lunch, we were back in the field, walking a long ridge. "At the end of the ridge is a waterhole. We should see a good number of elk there. Want to get to the crest overlooking water with just enough camera light to shoot a bull…if we find the right one," explained James. Jeremiah beamed.
We heard bulls bugling and were "in elk" from the time we left the vehicle. Walking slowly, we spotted three bulls. Two were really nice 6×6's, the third a big 5×5. I glanced at James; he was shaking his head in a negative manner. Darrin was smiling, "I've been on lots of elk hunts, but never have I seen anything like this!"
We walked slowly, stopping often to glass elk and distant ridges. I noticed James looking at a high distant ridge. "You're glassing way too far and too high for this flatlander," I commented. James laughed out loud!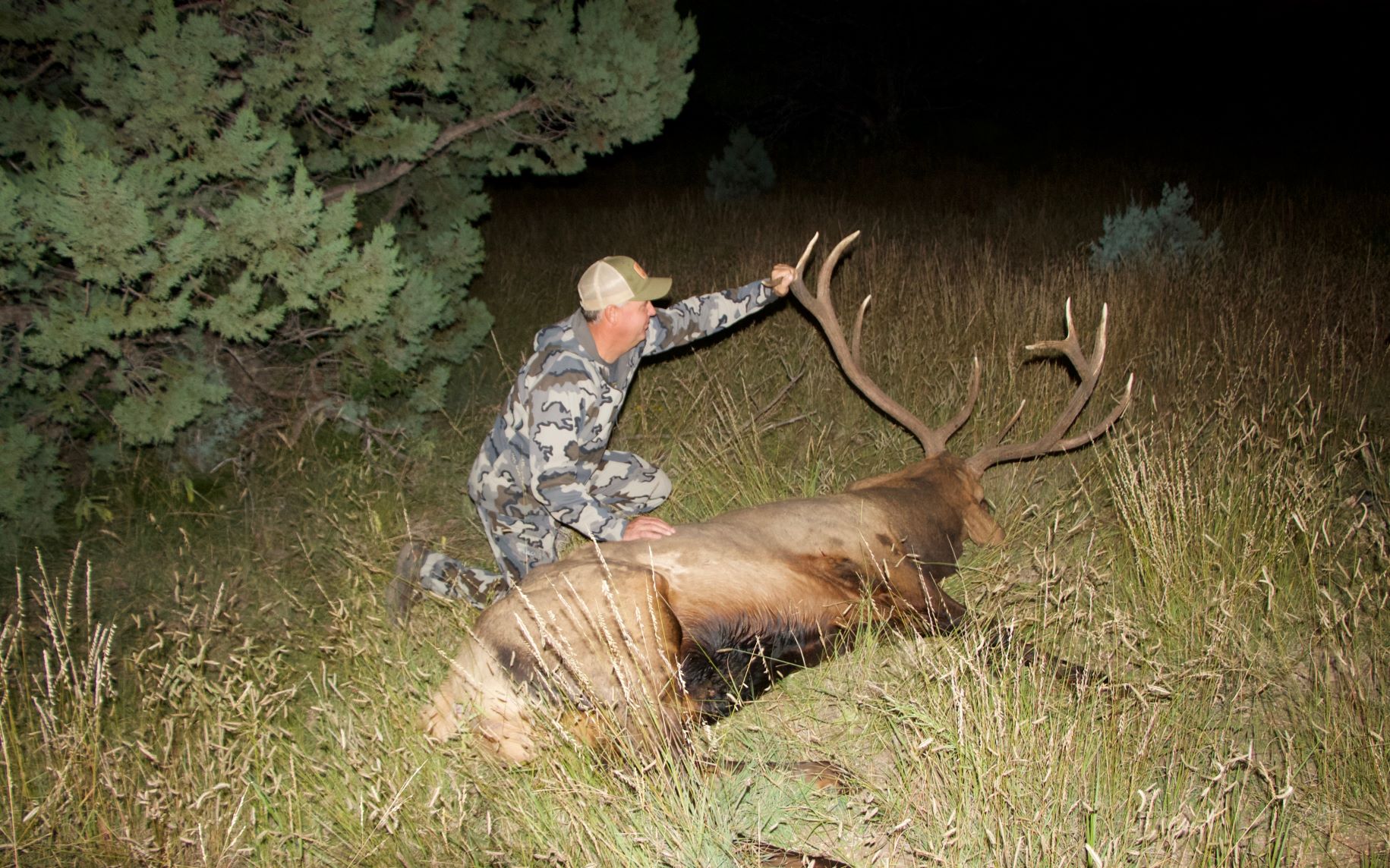 We were nearly to the waterhole. Bulls bugled all around us. Best I could tell, there had to be ten, if not more. Slowly moving forward, we could see the water hole. Bulls were scattered throughout the valley. "Big 6×5, a broken horn wide bull, one with one horn regular and one horn growing the middle of the forehead are the three of biggest interest," said James. He continued, "The broken bull, had he both antlers would have surely been a shooter. Think he would have likely gone in the 370s. Shame he's broken." We continued glassing. "Larry the bull with the slightly misshaped antlers is a management bull, if you're interested," whispered James. I was but there was a problem…
I had not been carrying the Remington Model 700, .300 Remington Ultra Mag I had built at Remington's Ilion, New York plant back in 1998, when I was on staff with as the Hunting Editor for "Shooting Times" magazine. When I indicated interest, James volunteered to run to the vehicle and get my rifle.
We watched the management bull. I noticed Darrin was really eyeing the big 6×5, missing a second brow-tine on one side. I knew he had purchased a second "non-trophy bull tag," which he could do with his package and one of the fabulous things about hunting the Mescalero Apache Reservation.
"Really like that by 6×5. Truly an impressive bull. Love his beam and tine length. If James will let me, think I'll shoot him," said Darrin. I agreed.
The big management bull that I was interested in walked toward and disappeared over the ridge. The big 6×5 stayed with his cows and chased off younger satellite bulls. All the time coming closer to where we waited.
We were nearly out of camera light by the time James handed me my rifle. "Darrin is interested in the big 6×5…" said I to James, explaining we were almost out of light, and "my" bull had disappeared over yonder ridge. But I told him too, we would film what we could if Darrin chose to shoot.
Moments later Darrin set up to shoot the big 6×5. He was now milling around another bull, plus the big broken bull. Finally, he cleared the other bulls and cows. Darrin's .300 Win Mag Christiansen Arms spoke loudly and effectively. The solid "whomp" left no doubt the bull was well hit.  Minutes later we stood at the bull's side.
Darrin's bull appeared big, alive. In death and at his side, he was even bigger. Hearty congratulations were offered, all around! A huge bull was down.
After many photos we loaded the bull onto James' pickup and headed to the skinning shed! There he was appropriately admired and then properly taken care of.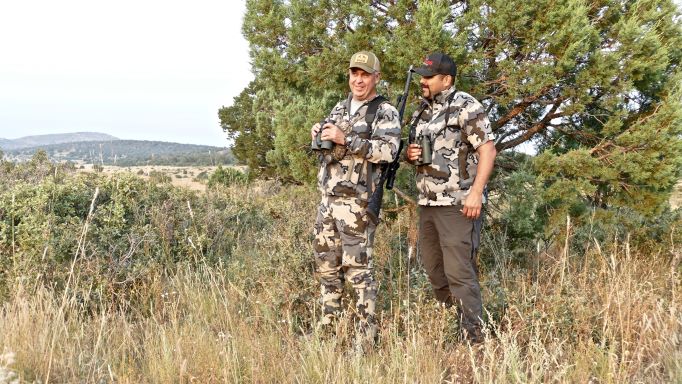 Based on the day, with cooling temperatures, the morrow would bring even greater adventures!
Stay tuned for Part 2 of "On The Mescalero Apache"!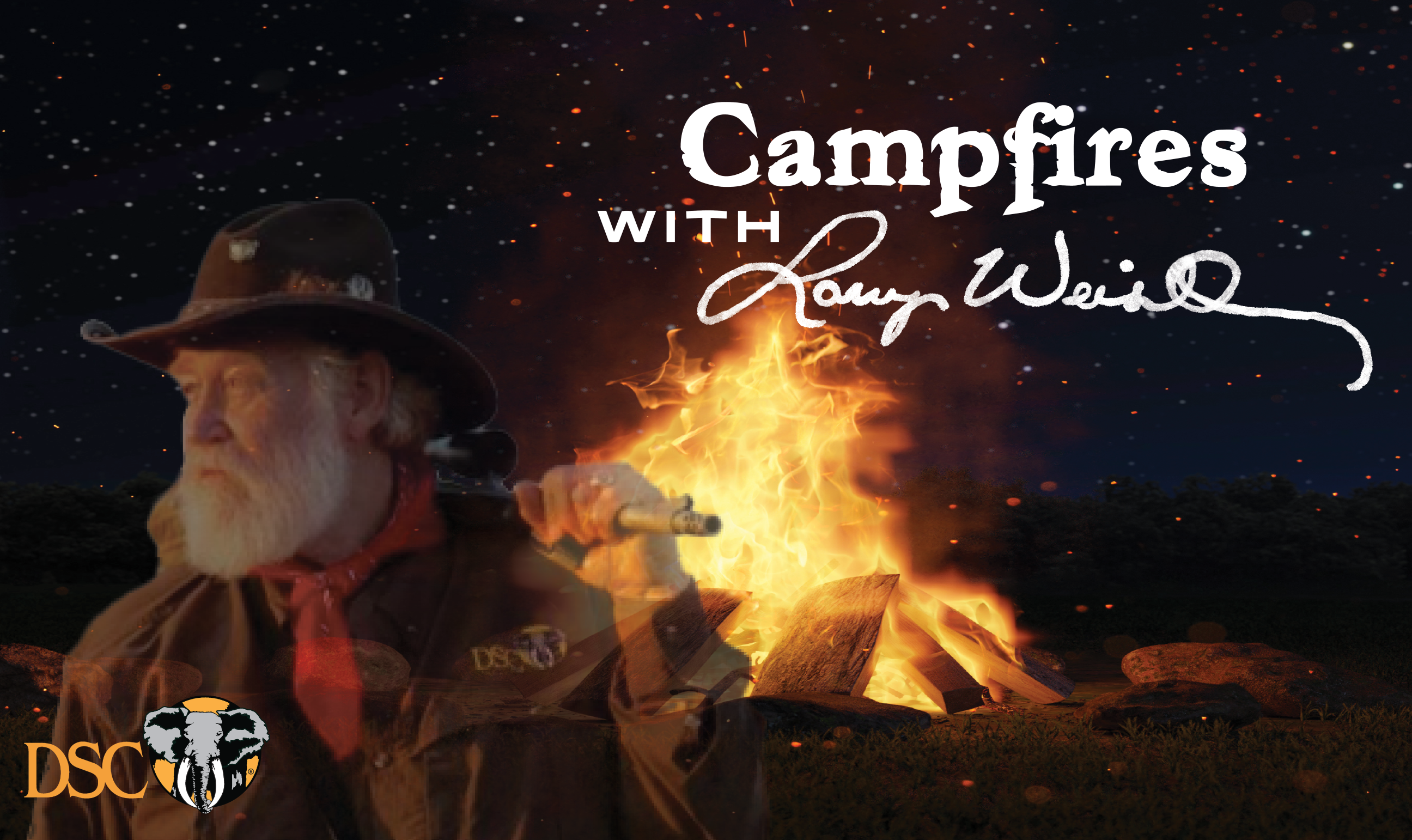 Regardless of what is going on in the world, there are always small things, of beauty and splendor, for us to enjoy, admire and appreciate!
If you haven't heard any of the "Campfires with Larry Weishuhn" podcasts, head to www.waypointtv.com/dscs-campfires to listen to all the episodes.