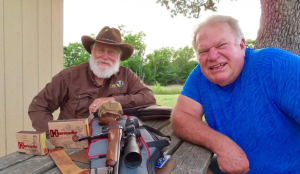 Larry and Ken sit down with Gary Robertson, owner of Burnham Brothers Calls. The guys discuss the evolution of calls, and how they can be used to pull in predator or prey.
The new "DSC's Untamed Heritage" podcast is co-hosted by legendary "Mr. Whitetail," Larry Weishuhn and outdoor radio personality Ken Milam. "Our goal with 'DSC's Untamed Heritage' is to entertain and educate, while exploring the many wonderful facets of the hunter/angler/conservationist's way of life," Weishuhn said. 
"DSC's Untamed Heritage" releases an audio podcast the first and third Monday of each month and a vlog version on the second and fourth Monday of each month.
It's currently available on Apple Podcasts, IHeart, Blubrry, Spotify, Stitcher, Google Podcasts and many others.
The podcast/vlog is also released each Monday on the "Untamed Heritage" Facebook page.
"DSC's Untamed Heritage" is produced by Mike "Chico" Garcia and sponsored by Trijicon, Ruger, Hornady and Burnham Brothers Game Calls.