Roe Deer in Sweden
[author] [author_image timthumb='on']https://www.biggame.org/wp-content/uploads/2019/10/untamed.png[/author_image] [author_info]Larry Weishuhn is a widely known writer, speaker, raconteur and world hunter. You can catch his podcast DSC's Campfires on waypoint. [/author_info] [/author]
"Crayfish? Did I hear you right?" questioned Tim Fallon. "You mean those things that look like little lobsters?" Stefan Bengstten smiled and nodded. "Did you just say there have been wars fought over crayfishing rights?" Again Stefan nodded. With that Tim looked my way, "Did you know they had crayfish in Sweden?"
"All new to me!" I replied, "But when in Sweden, do as the Swedes. I'm in, if we're setting up traps for them. Sounds interesting. I gotta feeling, too they'll be delicious."
"Grab your rifles, we will make certain they are still sighted-in. From the rifle range we will go set crayfish traps in the farm's ponds," instructed our outfitter Stefan, who, along with with his wife Sofia, own and operate Scandinavian Prohunters. If that wasn't enough, this exceptional pair are also professional wildlife biologists. We had met them at the annual DSC Convention. Patty Curnutte with The Global Sportsman (www.theglobalsportsman.com) had introduced us when we inquired about hunting roe deer in Sweden and reindeer in Norway. While at the DSC event, we visited with a couple of Scandinavian Prohunters' past clients. Before leaving Dallas that weekend, we officially booked a roe deer followed by a reindeer hunt.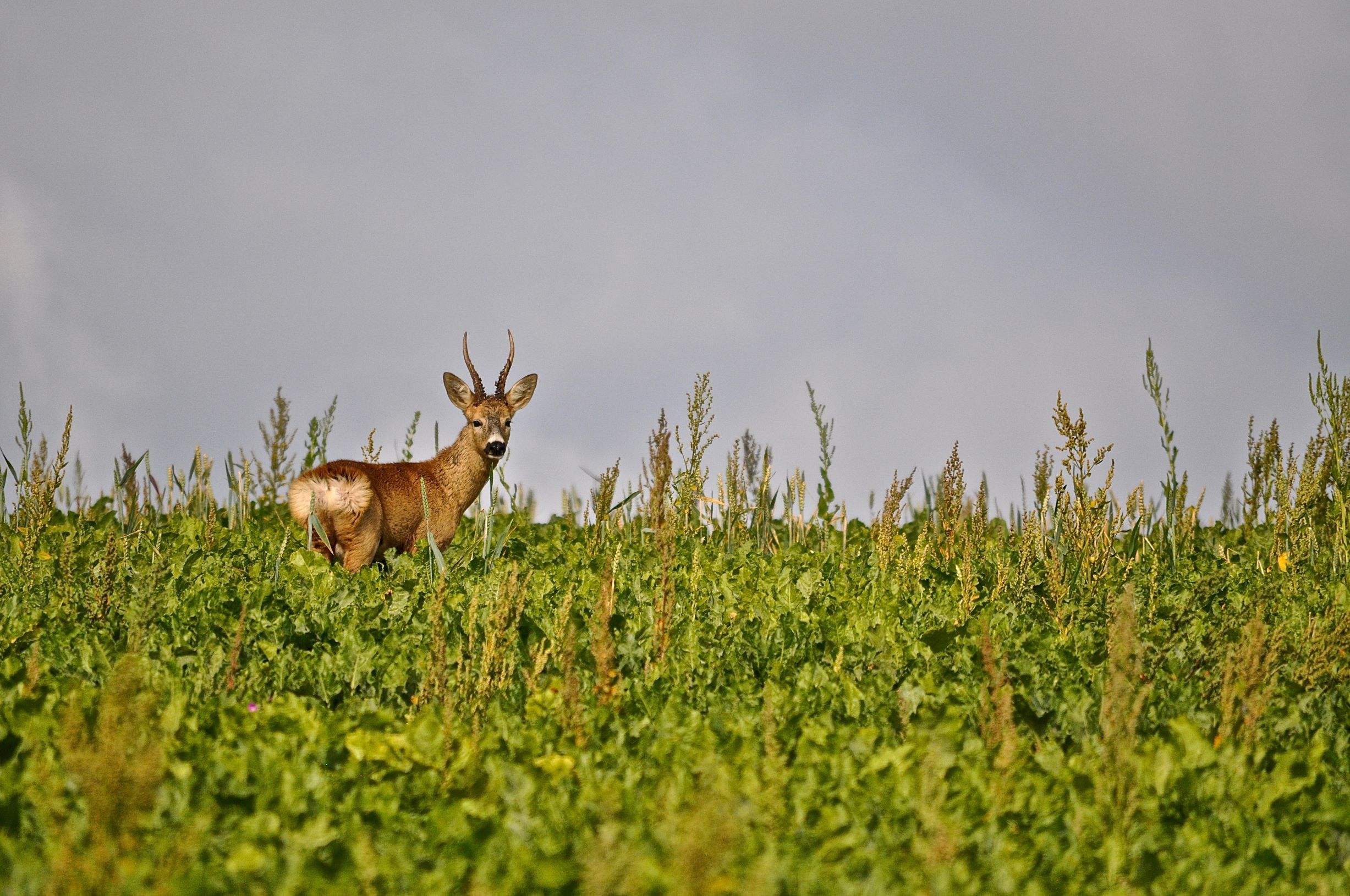 That day in Sweden, it took but one shot to confirm my Ruger FTW/SAAM .375 Ruger, topped with a Trijicon AccuPoint and shooting Hornady's 300-grain DGX was still dead-on. The following morning, we would hunt, before doing a bit of scouting but this evening, we would set crayfish traps.
A short time later at the farm pond, we set 32 crayfish traps, small box-like traps baited with dry dog food where a crayfish could crawl into, but not out of. Traps set, we spent the last hour of daylight glassing crop fields and forest edges for roe deer. We spotted several, including some most interesting bucks.
Following a delicious, well-before-dawn breakfast, I crawled into a vehicle with Sofia, while Stefan squired Bob and Celia Scott, fellow DSC members, in his vehicle. Our first effort of the morning was to find an extremely impressive buck for Bob, one Stefan and Sofia had been watching for a while. Suffice it to say, finding that buck was not easy. It would require several, albeit fun, stalks and hunts.
With Bob's buck "in the salt," I started seriously hunting, looking for an old mature buck with the typical three points per side. In the process we looked over numerous bucks, including some chasing does, some tending does and single bucks on the prowl. One particular buck we spotted had long spikes with a "velvet horn," a deer that had not shed the velvet from its antlers. Known locally as a "peruche," we would call it a "cactus-buck" or stag. Such deer are highly prized by European hunters. I have to admit I was tempted, but also knew Stefan had a client who particularly wanted such a buck, so I passed the deer. Interesting when several weeks later, after much hunting, Stefan's client took the velvet antlered "buck." However, it turned out to be a fully functioning doe, making it even rarer and more prized by the European hunter.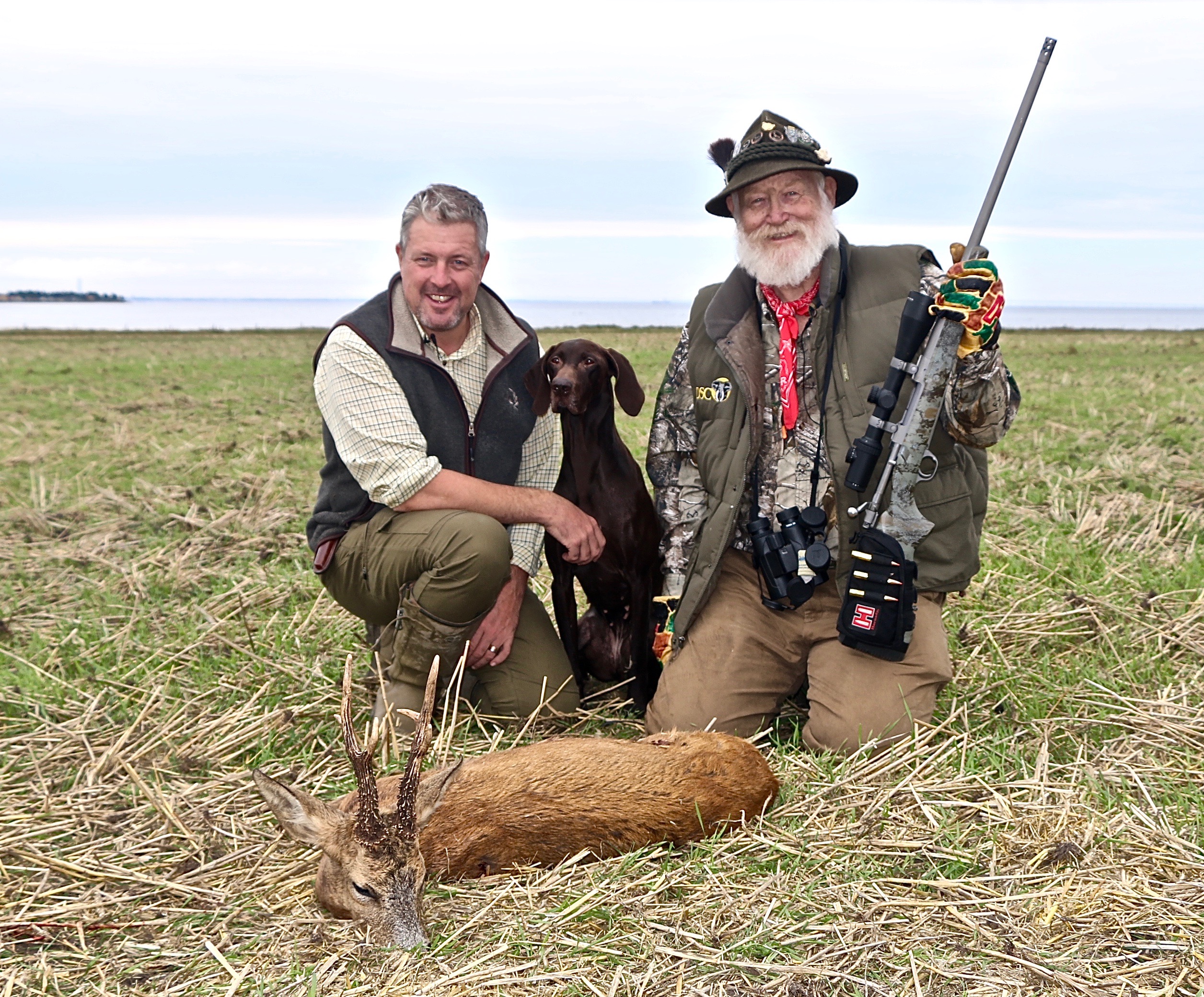 Later in the hunt, Stefan and I watched a nicely antlered, mature buck bed on the back side of a transmission tower in a grain field bordering the bay that separates Sweden from Denmark. No doubt he was a Gold Medal class buck with long beams, long points, massive and darkly stained antlers.
We stalked to within two hundred yards, to the transmission tower nearest to the tower he was bedded behind. Tall grass around the base of the tower prevented me from getting a shot at the buck. We tried calling on a butaloo call, which normally brings roe deer running, to get him to stand up, but this time, it did not work. Not discouraged, we tried a few other "things," and still the buck seemed oblivious of us. Only after hearing Stefan walking around a bit did the buck get up. When he did, he ran. When he slowed to a walk, I shot. At the shot, he ran. I tracked him through the scope. At 400 yards, the buck stopped. I pulled the trigger and he dropped. Thankfully I had spent considerable time shooting at distances near and far at the FTW Ranch's SAAM ranges.
My buck was absolutely handsome, and I was truly thrilled. I dearly love hunting roe deer! The small deer, rather like our whitetail in terms of status and distribution throughout Europe, has long fascinated me. I have hunted them in several European countries and long to hunt them again in the future.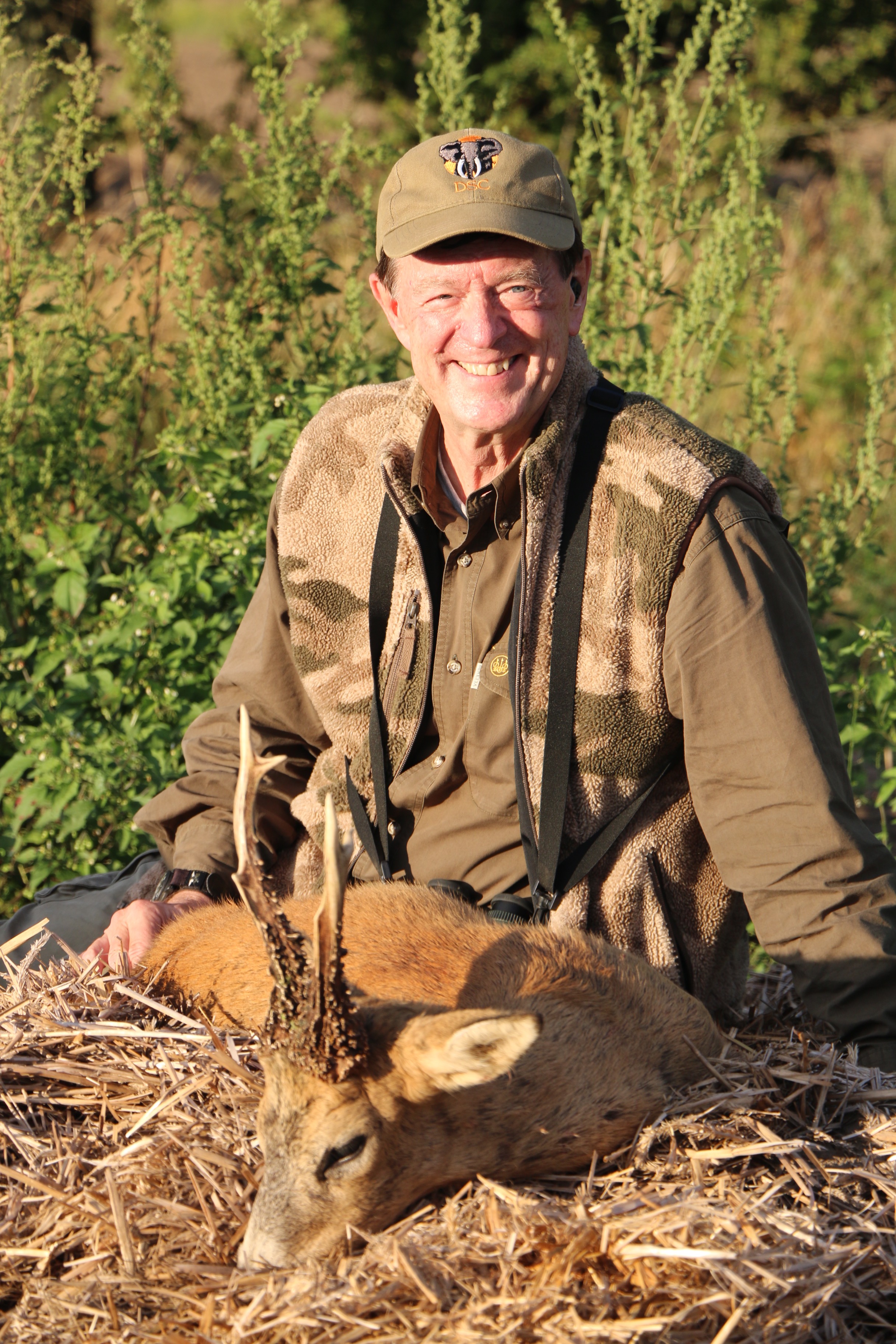 Before hunts' end, Tim Fallon too shot a really nice buck in the same field where I had taken mine. Others in our hunting party too took nice roe deer. Next stop, Norway, a quick fishing trip then on to hunting reindeer.
But not before a fabulous meal of boiled crayfish. Over the period of several days, we caught about 50 pounds. The landowner prepared a "boil" for us the night before our departure. Talk about GOOD!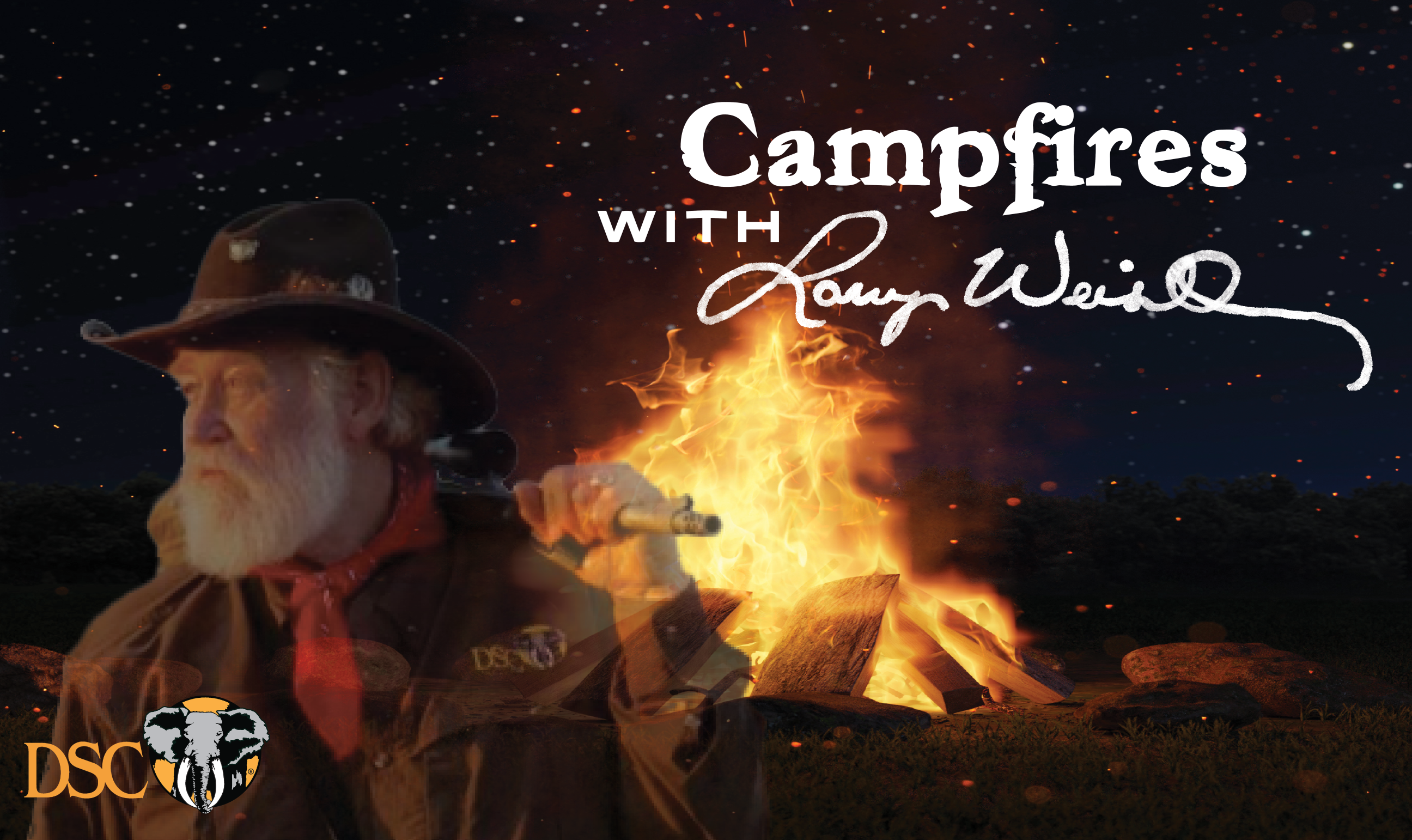 Regardless of what is going on in the world, there are always small things, of beauty and splendor, for us to enjoy, admire and appreciate!
If you haven't heard any of the "Campfires with Larry Weishuhn" podcasts, head to www.waypointtv.com/dscs-campfires to listen to all the episodes.