A Message for 2022 Exhibitors from Exhibits Manager Tatiane Upton
March 2021
Dear Exhibitor Partners,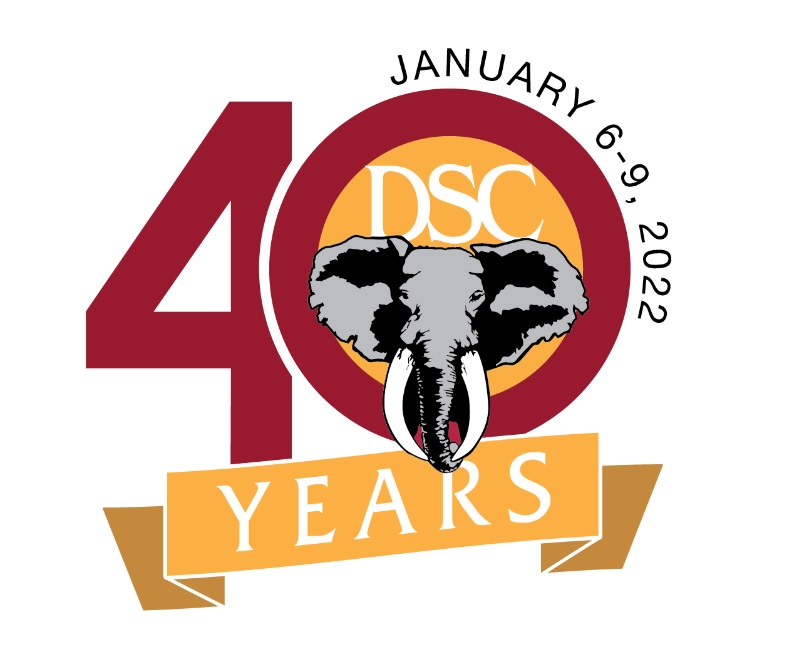 Thank you for all the support during this past year. The 2021 Virtual Live Event was a great success, and we could have not done it without your support and partnership.
DSC has begun 2022 convention planning, and we are looking forward to celebrating our 40th anniversary. We will be promoting the convention broadly to celebrate this milestone together.
Because we were not able to host an in-person convention this year, exhibitor registration for the 2022 convention will take place online. The platform is currently being developed, so registration will take place in mid to late April.  Do not be concerned, as we will have plenty of time for registration. Your booth credit is in place, however, you will be required to submit an application.  I will be emailing additional information about the registration process and how it will occur soon. Once all have submitted applications, we will begin working on the booth placement assignments for 2022.
The 2022 convention will be held in Dallas at the Kay Bailey Hutchison Convention Center January 6-9, 2022.  Move-in will be on Tuesday and Wednesday, January 4-5 from 8 a.m. to 5 p.m. Move-out will be Sunday from 3 p.m. to 10 p.m. Move-in dates and times for booths with permanent vehicles as part of their display will be announced later, per fire marshal instructions.
Since the 2020 convention, DSC has announced the exhibitor membership requirements. The level of membership is not a pre-requisite, however, all exhibitors are required to be members in order to participate in the convention. If you need more information on membership, please visit our website (https://www.biggame.org/membership/) or contact Nate Watson at nate@biggame.org.

Next, we are excited to announce a new honor at the 2022 convention. DSC is working to elevate the way we communicate conservation and how it is visualized by our exhibitor partners. In order to communicate the conservation message to a broader audience, DSC has established a new honor/distinction, partnering with Conservation Visions, to recognize the exhibitor whose booth space most clearly articulates a conservation theme and presents imagery, materials, and messaging that emphasizes our responsibility toward wildlife and its conservation. The Best Conservation Display seeks to recognize excellence in exhibitor booth displays and to reward exhibitors whose display creates a stunning visual story about the importance of conservation. The top display will be selected based on several criteria: theme and vision, graphics, originality, and overall impact. Winners/Honorees will receive a plaque that can be displayed in the booth during the show. In addition, a 10×10 booth (or a credit of equivalent value) and 5,000 exhibitor credits will be provided by DSC.