Trail Cameras
[author] [author_image timthumb='on']https://www.biggame.org/wp-content/uploads/2019/10/untamed.png[/author_image] [author_info]Larry Weishuhn is a widely known writer, speaker, raconteur and world hunter. He co-hosts "DSC's Trailing the Hunter's Moon" on Pursuit Channel, CarbonTV and the show's YouTube Channel.[/author_info] [/author]
"Have you checked your trail camera?" asked my brother. "Saw some deer headed that way right after first light this morning. One looked like an 8-point that is right at being legal. He's got good points and mass, but he never turned to look my way or directly away so I could see how wide he was. Were I to guess, and that's totally what it would be, I'd say he was probably just shy of 13-inches inside, which would make him illegal."
"Last time I checked was a week ago, I had one hundred fifty-four photos of does and fawns, and thankfully no hogs!" I commented. "As you know, got it set up where the two dry creeks come together, next to a stand of bois-d-arc trees. Noticed deer have really been browsing on them lately. Doesn't seem to be a single bois-d-arc leaf within reach of a deer anymore. Earlier when the trees were dropping their "horse apples" I picked up some then planted them along the creek bank. Hopefully they'll grow into a thicket. Also planted a bunch of them in my strip of persimmon trees on the edge of the hay meadow."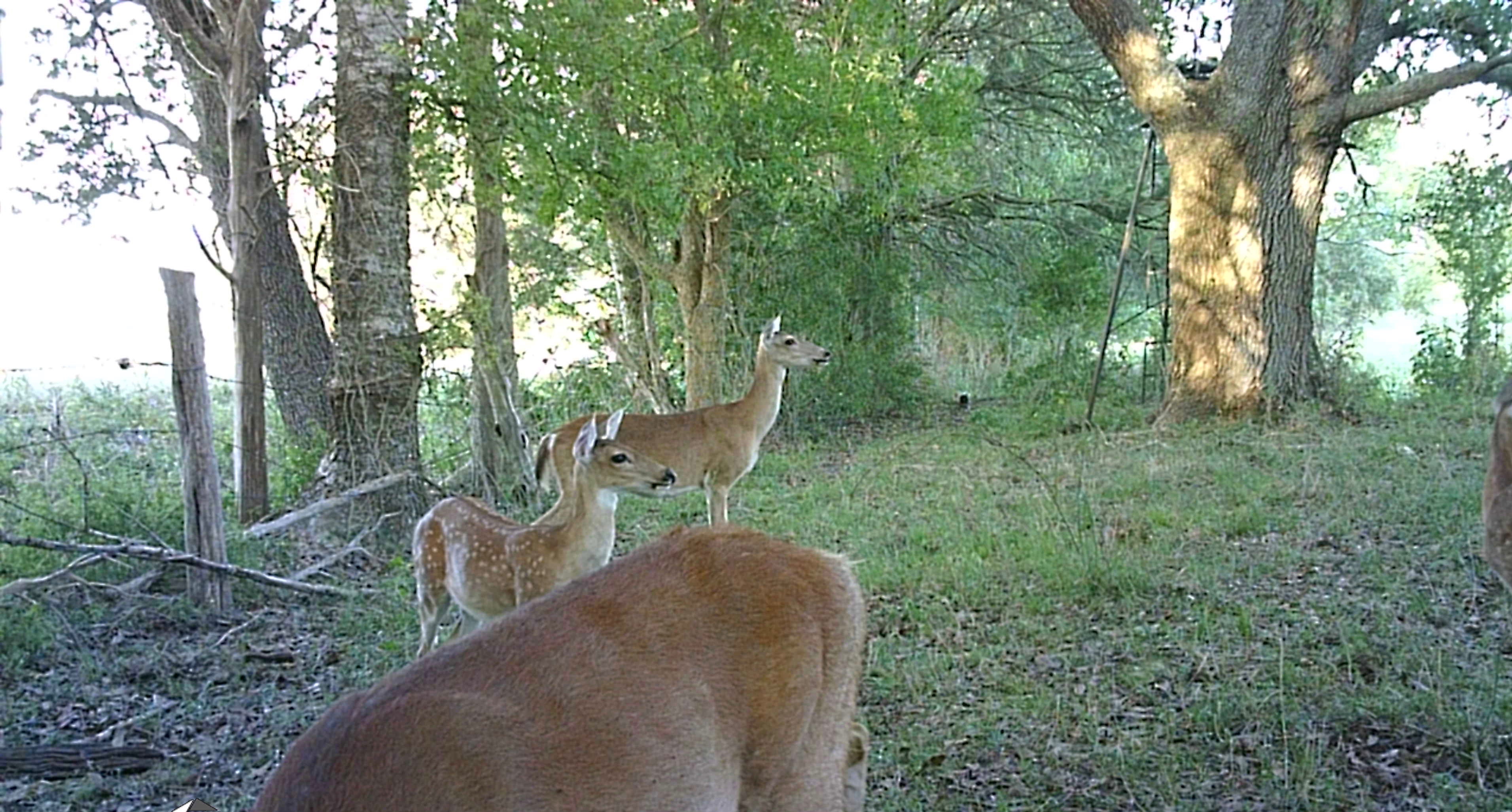 "Drove by those persimmons earlier this morning. Looks like the big tree is covered with fruit once again. Still green, but by mid-September they should be ripe. Might be worthwhile setting up a stand there, particularly if the persimmons last into the early part of October." Said Glenn. "Over the past several years I've seen a lot of deer early during bow season feeding on persimmons. Wish they lasted into rifle season!"
"I've got a card reader in my Kuboda, after you change out cards, come by the barn if you see me there, and we'll see what you got on camera." Sounded like an excellent idea to me. I headed to where I had my camera set up.
A few minutes later I walked into the creek bottom. I undid the latch to access the SD card, pulled it out, replaced it with another and headed up the hill to my brother's house and barns. He met me at the barn door with his card reader.
We moved through the 128 photos recorded. All were of does and fawn.
At least I had photos of does, guess the bucks were still bucks are still in bachelor herds and have not yet moved into my area. Hopefully in time they will.
On the bright side, at least I had photos, unlike other times when I had forgotten to fully push an SD card into the slot so it was engaged with the camera…resulting in no photos for a week….
At the shot, the old stag bucked, jumped forward and fell.
Moments later I was at his side whispering a prayer of thanks and started thinking of all the delicious meals my "take" would provide. Just then I heard my friend shoot. I wondered if I could con, I mean persuade him to gut and clean my buck. After all his hands should already be soiled by the time he came to pick me up….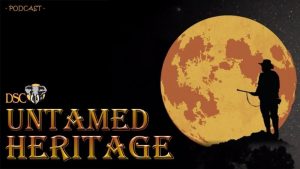 Regardless of what is going on in the world, there are always small things, of beauty and splendor, for us to enjoy, admire and appreciate!
Watch "DSC's Trailing the Hunter's Moon" TV show on our YouTube Channel, or on CarbonTV.
If you haven't heard any of the "DSC's Untamed Heritage" podcasts, visit blubrry.com/untamedheritage/ to listen to one of our dozens of podcast episodes.