Opening Day, 2020
[author] [author_image timthumb='on']https://www.biggame.org/wp-content/uploads/2019/10/untamed.png[/author_image] [author_info]Larry Weishuhn is a widely known writer, speaker, raconteur and world hunter. He co-hosts "DSC's Trailing the Hunter's Moon" on Pursuit Channel, CarbonTV and the show's YouTube Channel.[/author_info] [/author]
Amazing how some things do not change… The last time I had looked at my alarm clock it was 4:03 a.m. It was set for 4:30, giving me sufficient time to finish packing my pickup with bacon, eggs, large cast-iron skillet, a pot of beef/venison stew I had cooked the previous afternoon, as well as my rifle and cameras.
There was no need to try to go back to sleep for only a few minutes, I got up, put on a quick pot of coffee, dressed for the opening morning's 50-degree temperature, finished loading my pickup and headed the twenty-six miles to my little place in the Zimmerscheidt Community of northern Colorado County (Texas). My property has been in our Weishuhn family over for 150 years, and, my ancestors grazed cattle and farmed it even before that. The property is now owned by my brother Glenn and me. It is where he and I grew up and started hunting farther back than memory serves. While still in diapers my dad, Lester, and maternal granddad A.J. Aschenbeck, carried me hunting with them even before I could walk.
My destination was a ground blind one of my grandsons, Jake, and I built using board from cattle working pens dating back to late-1800's and tin from a barn built my grandfather during the same era.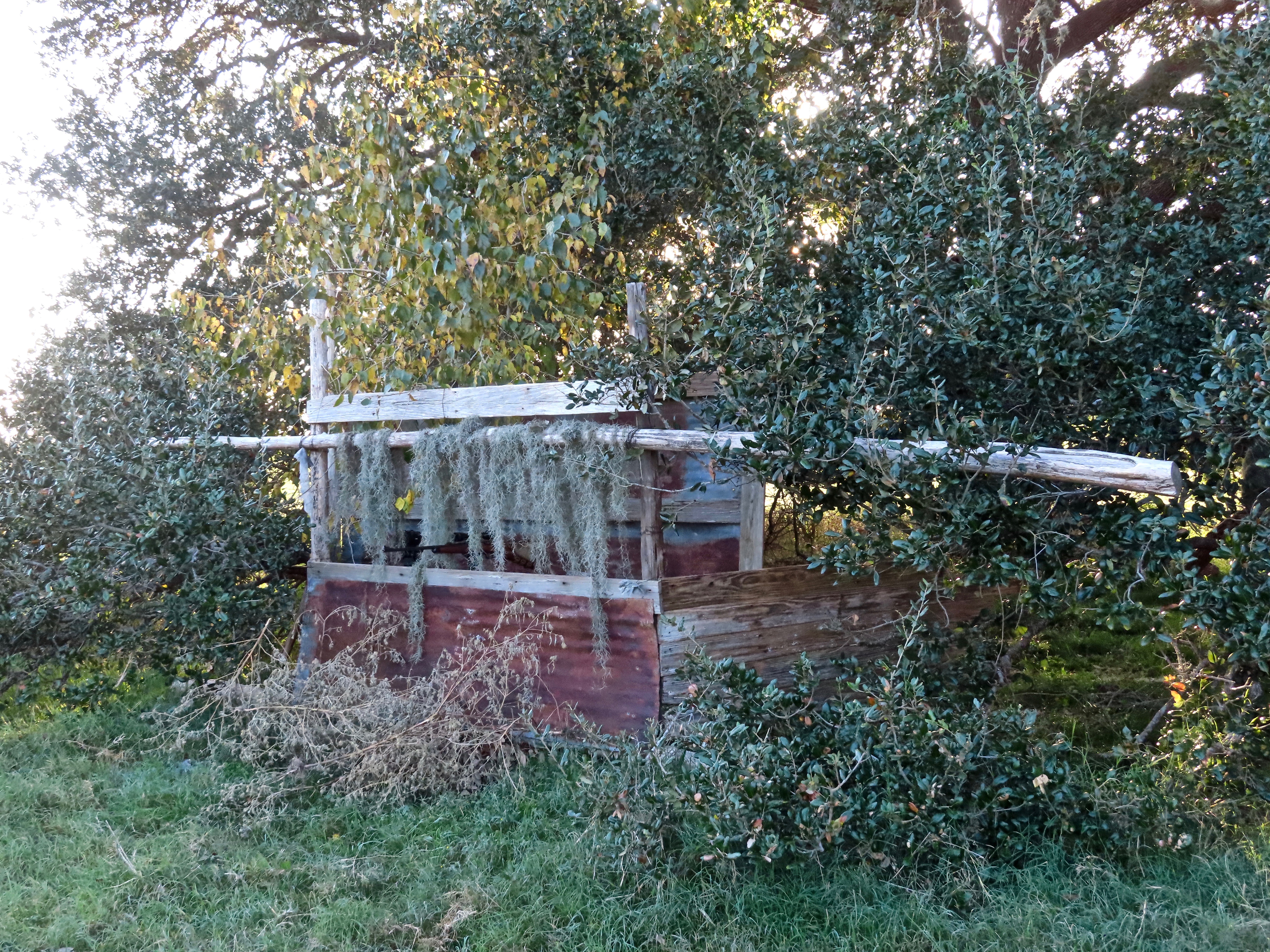 No sooner had I settled into the blind, a good forty-five minutes before legal shooting light, I received a text from my daughter Theresa. "Lance and I are on our stands on the north side! Good luck!" I returned the good luck wishes and settled back. The predawn morning was nothing short of fabulous, cool with a very slight breeze and quiet except for the sounds of Nature. It was truly good to be in my own place awaiting legal shooting light!
I spent a bunch of time glassing the little creek bottom I overlooked. Finally, I heard the first shot of the season, well over a mile away. It was not until the sun came up that I saw my first deer, three does and two fawns. Shortly after they disappeared, I received what has become a tradition, a text from Billy Kinder. For the past bunch of years, Billy and I have either texted or called each other opening morning. His first text was a trail camera photo from the night before, a really nice 8-point, followed by saying "Good Morning!" and he was watching a couple of does and a young 8-point. I gave him an update of what birds and does and fawns I had seen.
Texts from my daughter and son-in-law, about 8:30, stated they had only see birds and listened to crows chasing a hawk, plus my daughter's description of dealing with a squirrel who apparently did not care for her presence, as well as asking what time breakfast under the oak tree would be ready?
Our neighbor to the south had recently set up a substantial motocross track on his property. Little did we know he planned a major race opening day of Texas whitetail season, until the loud motorcycles and equally loud music started, just about the time I was about to start cooking.
About 9:30 I had hot coals under my cast iron skillet, then dropped in several strips of thick-cut bacon. Theresa and Lance arrived just about that point. Crisp bacon, fried eggs, piled on properly heated flour tortillas disappeared in record time, followed by hunting tales of the past. Just about then my brother Glenn and his wife Cindy showed up in their Kubota. He had seen some young bucks on his property he hunted in the adjoining county, but nothing that he was looking for. Still he too, had had a most enjoyable opening morning.
As he and I were telling stories about growing up and past hunts, we saw a pickup headed our way. As it got closer we could see it was the local Game Warden John Kohleffel. John's granddad, Leo, and his dad, Jack, both of whom I had known really well had been Texas Game Wardens. It had been a long time since I had last seen John. It was really good to visit with him. He mentioned based on what he had seen, the season was off to a slow though high quality start.
About 2:30 we added some more wood, stoked the fire and I heated my big pot of stew. We soon ate our fill, then readied for the afternoon hunt. Lance would return to the north side of the property. Theresa headed to a tripod stand I had set up where two dry creeks converge. In years past I had often seen some of the better bucks observed on our property In that area.
The afternoon was a good one, but with only limited deer seen. Shortly after getting into my blind, I spotted a distant buck, walking toward a creek bottom. I could see he had antlers, but before I could get a scope on him, he was gone.
The motocross was still going on, and it was stirring up huge amounts of dust, the racing sounds grew extremely loud, and the music had got louder. Just before the end of legal shooting time, I spotted a spike feeding under a nearby live oak, one of the few oak trees on my property this year with acorns.
Back at the pickup, Theresa told of seeing a little 7-point and five does which seemed to want to spend the afternoon with her.
On my way home, I learned the morrow's motocross would start at first light, with some races because of the number of entries starting before sun up. And that the race was supposed to end late afternoon. So, as I write this before again heading to my place way before first light, I'll put on my ear protection and pretend it is as quiet beautiful morning… It's all good! Deer season is finally here!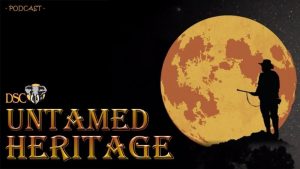 Regardless of what is going on in the world, there are always small things, of beauty and splendor, for us to enjoy, admire and appreciate!
Watch "DSC's Trailing the Hunter's Moon" TV show on our YouTube Channel, or on CarbonTV.
If you haven't heard any of the "DSC's Untamed Heritage" podcasts, visit blubrry.com/untamedheritage/ to listen to one of our dozens of podcast episodes.