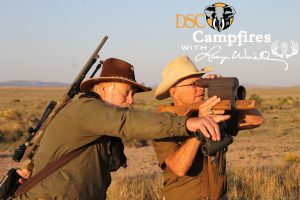 As Larry approached his 200th episode of "DSC's Campfires with Larry Weishuhn" which will happen during 2023, he reflects a bit on the past, but primarily focuses on the future.  In this first episode of 2023 Larry looks toward the future, some of his hunting plans, but also in becoming involved with "DSC's The Journey", a new digital TV show on CarbonTV.com with Brandon Houston.
Brandon, an experienced wildlife biologist, with considerable hunting and wildlife management experience begins or rather continues his outdoor lifestyle journey toward wildlife conservation and new hunting experiences.  Larry will be along for the ride as he continues learning more about wildlife, conservation and experiences new hunting adventures, while "spreading" things he's learned during 70 years of hunting and 50 years as a professional wildlife biologist.
Larry too, announces exciting news, "DSC's Campfires" will too soon be available to be viewed on CarbonTV in their podcast category. Beyond, Larry talks about some of the outdoor adventures he is most interested in pursuing during 2023.
Click here to listen to the podcast.