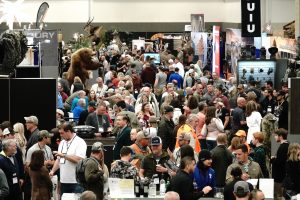 Planning Already Underway for 2024
The return of the 2023 DSC Convention and Sporting Expo Jan 5-8 to Dallas at the Kay Bailey Hutchison Convention Center brought with it record attendance, dollars raised and energy in support of the DSC mission of Conservation, Education and Advocacy.
A massive thank you to all who exhibited, supported, volunteered, attended, and worked tirelessly behind the scenes to make this the best Convention DSC has ever had.
"We truly appreciate our exhibitor partners, sponsors, attendees and the DSC 100 volunteers," said 2023 Convention Chairs, Russell and Mary Edith Stacy. "All of these groups contributed significantly to the success of the 2023 Convention."
The lifeblood of our organization – the DSC 100 volunteers, exhibitor partners, and attendees – showed up in droves. Specifically, 34,880 unique individuals attended the Convention, along with thousands of exhibitor partners and hundreds of dedicated volunteers. Connections were made, memberships were renewed, and partnerships from across the globe furthered the mission of DSC. Membership and volunteer numbers currently are at all-time highs.
Thanks to the generosity of donors and bidders, the DSC live and silent auctions, along with raffles, generated critical funds to be used this year for wildlife conservation projects around the globe.
Speaking of around the globe, more than half of the exhibitor partners at the Convention attended from outside of the U.S. Feedback from exhibitors was overwhelmingly positive, with many stating it was their best show ever for bookings and sales. Corporate Sponsors were also a huge part of this year's convention, and their unyielding support is crucial to DSC's continued success.
DSC Foundation supporters enjoyed the new Askari Lounge at this year's Convention. Donors were able to rest their feet, enjoy a few refreshments and explore upcoming exclusive Askari events being planned for 2023.
Dozens of Chapter Board Members attended the DSC Chapter events this year at Convention and shared valuable information about their upcoming local DSC Chapter Galas and events.
It was a great time to be in Dallas at the 2023 DSC Convention and Sporting Expo. DSC encourages each of you to join us again next year for the 2024 DSC Convention to be held January 11 – 14 at the Kay Bailey Hutchison Convention Center. Planning is already well underway, and we can't wait to see our friends from around the world once again back here in Dallas!
For more information on next year's Convention, go to Biggame.org or call (972) 980-9800.