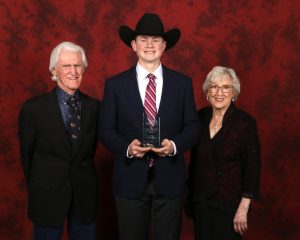 The application cycle is open for nominations for the 2024 Colin Caruthers Young Hunter Award, annually given to youth members who are actively involved in their local community and their hunting journey. The application allows the nominees to share their past hunting and shooting experiences, hobbies and extra-curricular activities, as well as academic achievements.
Last year, a change was made to allow the applicant to include trips they attended as observers and did not take an animal. An essay will be required with each submitted application.
Last year's winner was John Hartford from La Jolla, California. He is currently attending the U.S. Military Academy at West Point.
If you are a DSC youth member, DSC encourages you to take a look at the new application and consider applying! Everyone has a unique hunting and conservation journey to share.
The award will be presented to the recipient during an evening banquet at DSC's Annual Convention each year in which a recipient is selected.
Application deadline is Sept. 1. Applications can be filled out at www.biggame.org/colin-caruthers-young-hunter-award/, or email Conor@biggame.org.