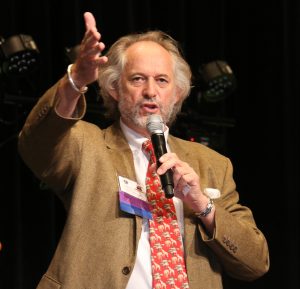 FOR IMMEDIATE RELEASE
Media Contact: Stephanie Mallory
205-999-8247
stephanie@mallorycommunicationsinc.com
(Oct.7, 2019 – DALLAS) – DSC has selected master sculptor and silversmith Patrick Mavros as the Artist of the Year for the 2020 Convention, Heritage.
Mavros, a renowned self-taught sculptor and jewelry designer, is considered by many to be one of the most important and influential silversmiths of his time.
A valued and loyal supporter of DSC, Mavros a native of Zimbabwe has designed and donated the Silver Elephant table centerpiece (valued at $ 55,000) for the DSC Convention's Saturday night auction.  He has donated magnificent table pieces for over 20 years.
The beginning of the Patrick Mavros art story started in the African savanna over 40 years ago when Patrick carved a delicate pair of earrings for his future wife Catja.  These earrings were so admired and faced such demand that Patrick built his studio and started the legendary business we know today.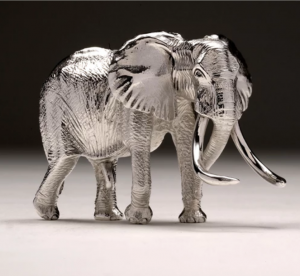 The Mavros homestead where Patrick and Catja raised their four sons is well known as one of Africa's classic homes.  It is situated in a spectacular environment where giraffe, donkeys, buffalo, baboons, bush babies and parrots all live in an orchestra of delight.
Every extraordinary and original design comes from the imagination of Patrick or one of his sons and all of them are hand made in sterling silver and 18ct gold in the home studio in Zimbabwe or in Mauritius.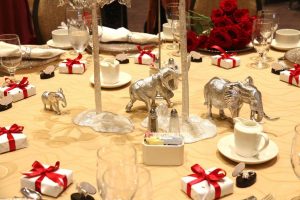 A loyal supporter of DSC, Mavros has exhibited at the annual DSC Convention for 18 years, and DSC is honored to have him address the audience at this year's Saturday night banquet. As in years past, Mavros is donating his hand-created table favors for the 2020 DSC Ladies' Luncheon and insists on placing a single red rose at each place setting.
This DSC Convention and Expo will be held in the Kay Bailey Hutchison Convention Center and Omni Hotel in Dallas, Jan. 9-12, 2020. Sportsmen and women are invited to be a part of another record-breaking event to help support conservation, education and hunter advocacy initiatives around the world.
The four-day celebration of the outdoor lifestyle is open to the public and is one of America's premier fundraisers for conservation. The DSC 2019 Convention raised more than 3 million for wildlife programs, public education and hunter advocacy worldwide. While membership is not a requirement for attendance, DSC will welcome more than 30,000guests and around 400 new members at the convention to help promote the mission and programs of the organization.
For more information about Patrick Mavros, visit https://www.patrickmavros.com/.
Visit DSC on Facebook: https://www.facebook.com/DallasSafariClub/
Visit DSC Foundation on Facebook: https://www.facebook.com/thedscfoundation/
About DSC
A member of IUCN and FACE, DSC is a mission-focused conservation organization, funded by hunters from around the world. With an administrative staff of less than 15 and a volunteer army of 500, DSC hosts the Greatest Hunters Convention on the Planet™ that raises funds for grants in conservation, outdoor education and hunter advocacy. In the past five years, more than $5 million has been channeled to qualified projects, organizations and programs in support of that mission. 
About DSCF
DSC Foundation is a non-profit corporation organized under section 501(c)(3) of the Internal Revenue Code of 1986, as amended. DSC Foundation serves the mission of DSC to conserve wildlife and wilderness lands, to educate youth and the general public and to promote and protect the rights and interests of hunters worldwide. Learn more about DSC Foundation at www.dscf.org.