The new "DSC's Untamed Heritage" podcast, co-hosted by legendary "Mr. Whitetail," Larry Weishuhn, and outdoor radio personality Ken Milam, is now available wherever podcasts can be found.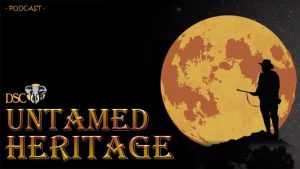 "Our goal with 'DSC's Untamed Heritage' is to entertain and educate, while exploring the many wonderful facets of the hunter/angler/conservationist's way of life," Weishuhn said. "This podcast will cover everything from hunting, fishing and wildlife management to bringing wild food to the table and enjoying the company of good friends around the campfire." Listeners are already tuning in to the Texas-based podcast that offers a unique blend of hunting, fishing and the outdoor lifestyle.
Weishuhn, co-host of "DSC's Trailing the Hunter's Moon," is one of the world's most popular and recognized wildlife biologists. He's also an outdoor writer, book author, speaker and outdoor television show personality.
Milam is a longtime fishing guide, lifelong hunter, conservationist and popular outdoor radio show host. Both Weishuhn and Milam are looking forward to sharing their extensive outdoor knowledge and experiences with their audience, while promoting DSC's mission of wildlife conservation, hunter advocacy and outdoor education. They'll also be interviewing other outdoor enthusiasts and professionals for their stories, feedback and tips on a variety of outdoor topics.
"DSC's Untamed Heritage" releases an audio podcast the first and third Monday of each month and a vlog version on the second and fourth Monday of each month. It's currently available on Apple Podcasts, IHeart, Blubrry, Spotify, Stitcher, Google Podcasts and many others.
The podcast/vlog is also released each Monday on the "Untamed Heritage" Facebook page.
"DSC's Untamed Heritage" is produced by Mike "Chico" Garcia and sponsored by Trijicon, Ruger, Hornady and Burnham Brothers Game Calls.