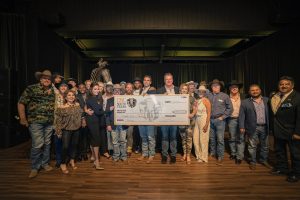 What began as a successful annual event turned into a record-breaking night for conservation at this year's DSC South Texas Chapter Gala. While exact numbers are still being calculated, one live auction item had a bigger story to tell. Backed by donors with a heart of giving and led by their foundation's focus on "preservation of tradition and history, animal conservation and education of youth for generations to come," an iconic African species was about to get a major boost from the hunting community.
"As the euphoria rolled at the South Texas DSC Chapter Gala in San Antonio, I felt my hair stand up like only once ever before," said Mr. Warne Rippon of Buffalo Kloof. "Almost 25 years after starting on the Buffalo Kloof rewilding mission, I began to realize that my team's work was getting the support and traction that we greatly needed. On Saturday night a female black Rhino custodianship along with a relocation experience was auctioned at the DSC South Texas Chapter for $500,000 – half a million dollars! A new record and the highest amount ever paid and raised for conservation and range expansion of the black rhino and for any other species for that matter."
As the bidding opened, it was clear there were several groups in attendance on a mission to ensure they were that part of conservation history. Bidding quickly surpassed $100k, then $200k, before concluding at $500k to Ms. Shannon Ralston and the Ralston Family Charitable Foundation. Created in memory of Shannon's mother, Laurie Ralston, the Foundation's focus and mission closely parallels that of DSC, and many of Ms. Ralston's family and friends were in attendance at the event when her bidding secured a part of conservation history.
"We are thrilled with the success of this year's event, and especially the support raised for Buffalo Kloof's black rhino conservation. Thank you to all that attended and financially supported, you have made a difference" said Jon Wilson, DSC South TX Chapter President.
If you are interested in learning more about the DSC South Texas Chapter and its mission, vision and values, or would like to get involved as a Member, please visit www.dscouthtexas.org.
For further information on Buffalo Kloof, please visit https://www.buffalokloof.co.za/conservation/.