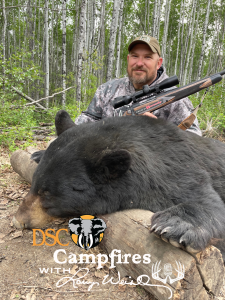 Monty DeBoer during his tenure with Hornady has worn numerous hats. Fairly recently he was promoted to what he while smiling refers to himself as "Hornady's MOM", or more correctly Hornady's Marketing Operations Manager. Monty is no stranger to the many who shoot Hornady ammunition. He, over the past years has become a very familiar face at the many consumer shows Hornady does and supports.
I was able to catch up with him in bear camp in far northern Alberta, Canada where Monty was on his first black bear hunt. During our visit we talked about his early years of hunting culminating in taking two absolutely monstrous black bear, but also a bit about the Hornady line of ammunition.
CLICK HERE to listen.