Buzztails
[author] [author_image timthumb='on']https://www.biggame.org/wp-content/uploads/2019/10/untamed.png[/author_image] [author_info]Larry Weishuhn is a widely known writer, speaker, raconteur and world hunter. He co-hosts "DSC's Trailing the Hunter's Moon" on Pursuit Channel, CarbonTV and the show's YouTube Channel.[/author_info] [/author]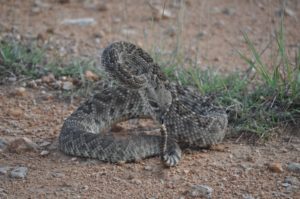 "Had no idea you could jump that high or that far!  Probably set some sort of distance and height record!" snickered my companion who then started laughing out loud. "Talk about social distancing!" he guffawed!
I waited for him to regain some semblance of composure and normality, then asked, "And exactly what would you have done, had you been me?"
It took a bit for my question to settle in past the laughter. Finally he replied, "Ah..ah…I..ah…might have jumped higher and farther than you!  I'm younger!"  Now it was my turn to laugh, but also appreciate his candor and honesty!
Moments earlier walking toward one of our stock tanks to do a bit of fishing, I had stepped right on top of a coiled five-feet long diamondback rattlesnake. Thankfully cooler than usual temperatures due to our recent late spring cool front caused the cold-blooded serpent to be sluggish. By the time the rattlesnake could react to strike what disturbed him, I was easily three feet above the ground headed a long way south!  Out of rattler character, the rattlesnake never rattled.
By the time I had fully recovered from my fright, the snake had made good its escape, likely crawling into the armadillo hole I had stepped around putting me on path with the serpent.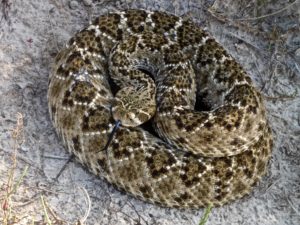 Seeing the rattlesnake simply reinforced snakes were out of their dens, obviously hungry and looking for prey. Had I found the snake where I had last seen it, it would have come to no harm. The rattler was a long way from any human habitation. To me, here in the pasture it was simply part of Nature.
Seeing the snake reminded me of the necessity to be vigil, on watch and cognizant that in Nature there are hazards to avoid, venomous snakes included.
Enjoy your springtime outdoors social distancing, but be careful where you put your hands and your feet!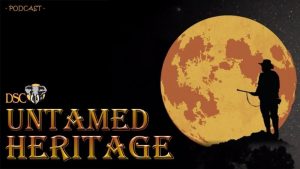 Regardless of what is going on in the world there are always small things, of beauty and splendor, for us to enjoy, admire and appreciate!
Watch "DSC's Trailing the Hunter's Moon" TV show on our YouTube Channel, or on CarbonTV.
If you haven't heard any of the "DSC's Untamed Heritage" podcasts, visit blubrry.com/untamedheritage/ to listen to one of our 30 podcast episodes.