Paging Thru A Journal
[author] [author_image timthumb='on']https://www.biggame.org/wp-content/uploads/2019/10/untamed.png[/author_image] [author_info]Larry Weishuhn is a widely known writer, speaker, raconteur and world hunter. He co-hosts "DSC's Trailing the Hunter's Moon" on Pursuit Channel, CarbonTV and the show's YouTube Channel.[/author_info] [/author]
"July 25, 2011…Cold, rainy day! Tosca, South Africa," explained my journal entry next to a drawing of a kudu bull. The long-horned bull had drifted south from Botswana in search of receptive cows.  "He's only 57!" had said my PH Frikkie du Toit.
Fabulous kudu but not the 60-incher I was looking for!  My longest horn African gray ghost to date, at that time, was 58-inches taken with Jonathan Hume on Zimbabwe's Save Conservancy.
Hunting northern Namibia with the legendary Fred Burchell, I had taken several bulls in the 55 to 57-inch range. And, I had already taken one bull this hunt that was 57 ½-inches. So I had passed him.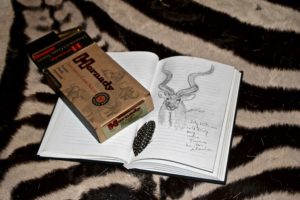 I am not one who generally measures horns or antlers, with the exception of kudu in Africa and whitetails in North America.  But I do appreciate mature animals with big bodies, horns and antlers.
Reading my 2011 hunting journal, a lot of memories vividly returned, aided by drawings I had done while on the hunt.  Notes regarding others on the hunt, weather, Ruger fiream, Hornady ammo and Trijicon scopes compliment those memories.
Are you keeping a hunting journal?  If not, it is time to do so.  Start one.  Be it an already bound blank journal, or a spiral notebook, leave several blank pages between your hunts. This will allow you to add details as you later recall them.
Watch "DSC's Trailing the Hunter's Moon" TV show on our YouTube Channel, or on CarbonTV.
If you haven't heard any of the "DSC's Untamed Heritage" podcasts, visit blubrry.com/untamedheritage/ to listen to one of our 30 podcast episodes.