Thoughts on Hunting Knives
[author] [author_image timthumb='on']https://www.biggame.org/wp-content/uploads/2019/10/untamed.png[/author_image] [author_info]Larry Weishuhn is a widely known writer, speaker, raconteur and world hunter. He co-hosts "DSC's Trailing the Hunter's Moon" on Pursuit Channel, CarbonTV and the show's YouTube Channel.[/author_info] [/author]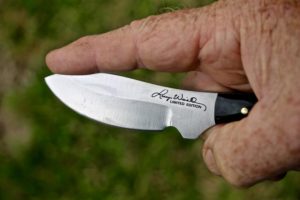 Years ago when I was outfitting hunters on ranches that I managed as a wildlife biologist, I was always anxious to see new hunters arrive in our camps. And frankly, I usually sized up each new client based on two different pieces of equipment: their rifle and their hunting knife.
I really liked those hunters who showed up with single-shot rifles such as the Ruger No. 1. Hunting with a single-shot equated to an accurate and proficient shot. It was nearly the same with those who carried well-used bolt-actions or lever-actions.
With knives, I learned over a lifetime of being in hunting camps and out in the field (plus a lot of experience using knives to gut, skin, cape, and butcher), the larger the knife blade carried by a hunter, the less hunting experience the owner possessed. Had they spent time "taking care" of their share of animals, they would have realized how unwieldy long blades are when it comes to gutting, or, for that matter skinning an animal, and really tough to use as a caping knife. Butchering the animal…yeah…long blades do work, but so do shorter blades!
My favorite hunting clients were those who arrived in camp with either a sheath or folding knife with a blade that at best was not much longer than their index finger.  After years of experience, I believe any hunting knife's blade longer than what I just described is a waste of good metal. Blades any longer than one's index finger are difficult to effectively control, when gutting or skinning an animal.
I personally love blade designs that are straight or have a drop-point.  These blades are easier to control.  I have large hands and prefer knives with large "handle" which fully fits my hand. As to the material used for handles, I like good-looking knives with handles of antler, bone, horn, or nicely grained wood.  Handles need to be of a material that does not slide around in your hand when the knife or your hands are wet.
Knives, in my opinion, should be made of steel which maintains an edge, but which can be easily sharpened.  That said, the best way to have a sharp knife is to keep it sharp, rather than dulling it and then trying to again sharpen it.
What is it you look for in hunting knives?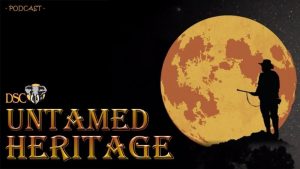 Regardless of what is going on in the world, there are always small things, of beauty and splendor, for us to enjoy, admire and appreciate!
Watch "DSC's Trailing the Hunter's Moon" TV show on our YouTube Channel, or on CarbonTV.
If you haven't heard any of the "DSC's Untamed Heritage" podcasts, visit blubrry.com/untamedheritage/ to listen to one of our 30 podcast episodes.