Glacial Ice
[author] [author_image timthumb='on']https://www.biggame.org/wp-content/uploads/2019/10/untamed.png[/author_image] [author_info]Larry Weishuhn is a widely known writer, speaker, raconteur and world hunter. He co-hosts "DSC's Trailing the Hunter's Moon" on Pursuit Channel, CarbonTV and the show's YouTube Channel.[/author_info] [/author]
My nearly eight-feet-squared Southeastern Alaska black bear was "in the salt." The ancient boar, so black he had a blue sheen, had come late in the hunt. For several days Keegan McCarthy with Coastal Alaska Adventures and I had hunted hard, passed on lesser bears, and finally found the huge old boar as we were pointing our little skiff back to the Sikumi, our mothership. After a short, though wet, stalk we slipped to within 75 yards of the unsuspecting bear. Two shots in rapid succession from my Ruger M77 Guide Rifle in .375 Ruger topped with a Trijicon AccuPoint scope and shooting Hornady's excellent 300grain DGX loads put the bear down quickly. With the threat of a rapidly receding low tide, we gutted the bear, pulled him to higher ground and piled brush on him. We barely got our skiff into deep water.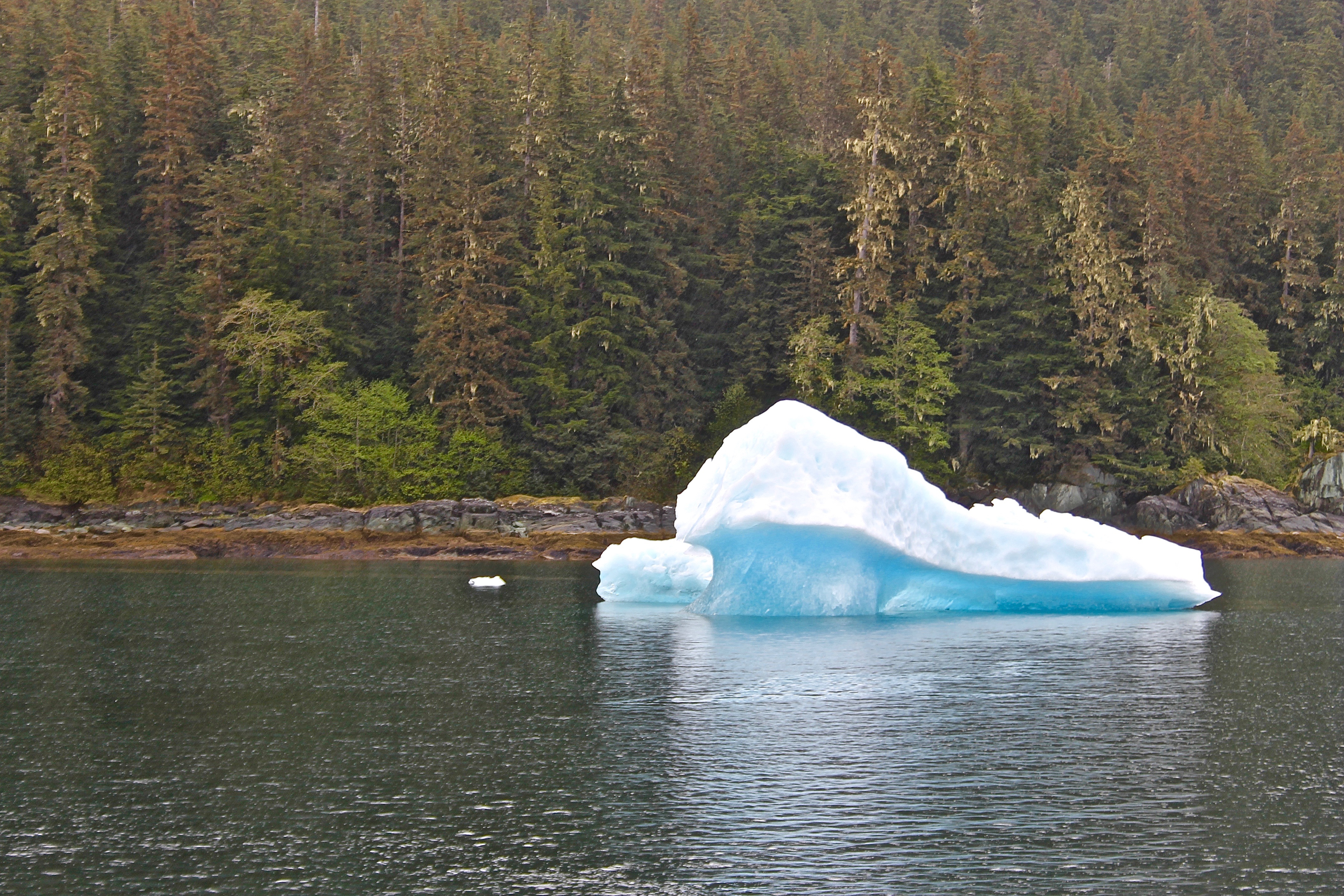 Back on the Sikumi that night after a cleaning and warming shower, I was introduced to glacial ice. It had been "harvested" from an iceberg earlier that day. I watched as Keegan took great effort to chip the crystal clear icer. After putting some of the glass-like chips into a tall glass, he poured a generous dram of "safe water" over it and handed it to me. I waited as he prepared one for himself. As he was swirling the amber elixir about in the glass, he warned, "Do be a bit careful with the ice. It's much like glass, and essentially just as hard. I would rather suggest you do be careful should you try to chew it." He continued, "Had one of our guides gather it this afternoon, for one of the icebergs which have been floating past."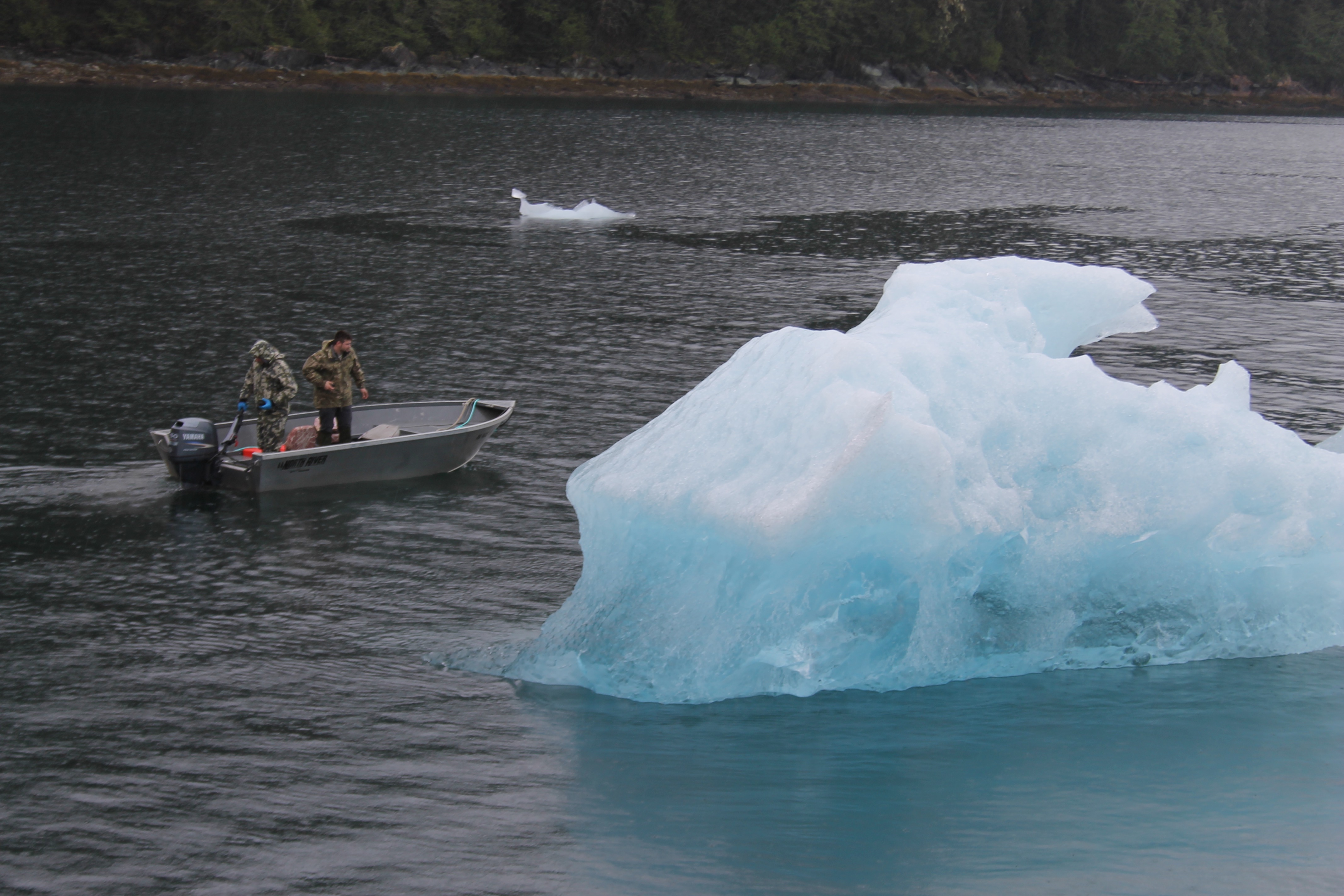 "Cheer!" said he. After a sip, he continued, "Glacial ice is pure, clear and unbelievably dense. That in your glass likely came from near the lower middle of one of the local glaciers. The weight and pressure of the glacier cause the ice to be extremely dense. Chances are, the frozen water you've got in your glass fell to earth two to four thousand years ago." I raised my glass to have a better look at the clear slivers of ice. Impressive. Too, I noticed the amber elixir in my glass had quickly become extremely cold. Keegan added, "Chances are the ice in your glass will last the entire evening. Glacial ice melts very slowly!" Indeed, he knew whereof he spoke. I had a second and third wee dram for obvious research purposes. If any of the glacial ice in my glass decreased in size, I could not determine so. That night at dinner, I filled my glass with water. By the time I finished my evening meal and water, the glacial ice in my glass appeared to still be the same size and shape.
It is truly amazing the things one can learn in an Alaskan Spring bear hunt camp… Cheers!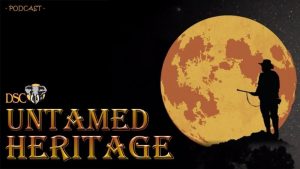 Regardless of what is going on in the world, there are always small things, of beauty and splendor, for us to enjoy, admire and appreciate!
Watch "DSC's Trailing the Hunter's Moon" TV show on our YouTube Channel, or on CarbonTV.
If you haven't heard any of the "DSC's Untamed Heritage" podcasts, visit blubrry.com/untamedheritage/ to listen to one of our 30 podcast episodes.