Time to Catch Up
[author] [author_image timthumb='on']https://www.biggame.org/wp-content/uploads/2019/10/untamed.png[/author_image] [author_info]Larry Weishuhn is a widely known writer, speaker, raconteur and world hunter. He co-hosts "DSC's Trailing the Hunter's Moon" on Pursuit Channel, CarbonTV and the show's YouTube Channel.[/author_info] [/author]
With my job as a wildlife biologist, outdoor writer, blogger, podcaster and tv show host I work for the most demanding, sorriest, no-count, down-right strictest boss in the world…. me!  But in doing so, I am also blessed with being able to set up my own schedule, at least to some point.
My intentions for these next days of "being contained" are to get many projects done I have been planning for years, such as thoroughly cleaning my guns (which is these days one of my most least favorite things to do); go through hunting gear and clothes to give away things which no longer really fit; organize photos according to subject matter; clean my mounts; organize my book collection properly; spend at least three hours a day writing, well maybe even four or more; going on a mile long morning walk with my wife; calling and visiting with old friends whom I have not spoken with in a while; getting in touch with outfitters and guides with whom I have hunted with in the past and whom I plan on hunting with this coming fall, once the current virus threat disappears or lessens.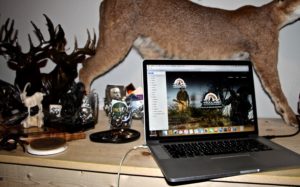 Lack something to do around and in the house? I don't think so!
Watch "DSC's Trailing the Hunter's Moon" TV show on our YouTube Channel, or on CarbonTV.
If you haven't heard any of the "DSC's Untamed Heritage" podcasts, visit blubrry.com/untamedheritage/ to listen to one of our 30 podcast episodes.